Part I of this blog introduced our top 5 with the excellent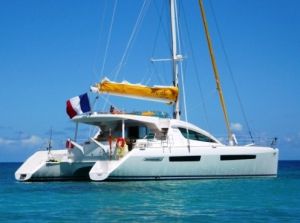 CATTITUDE, followed by the modern IN THE WIND, two fantastic options for a Crewed Catamaran in the BVI. Part II will follow on in the same vein, exploring some of those best crewed catamarans available for charter in the BVI that we highly recommend.
MOTU is a stunning crewed catamaran, available for charter. She is a 2006 61 foot Privilege, with the space to accommodate 8 guests in 4 large cabins easily. She has an excellent fly-bridge, a perfect space for viewing the oceans around you whilst you sail on board. MOTU always makes her clients feel at home, and chartering her is one of the most extraordinary experiences one can have. One charterer said "The Motu experience was the best vacation I have taken. First, simply being on a boat living in luxury with the flexibility to roam wherever your heart pleases may just be the perfect combination. We did the BVI`s under the Motu, a 60 foot cat that is in excellent condition. Additionally, there are fun toys like the waterskiing, wakeboarding, tubing, kayaking, snorkeling, exploring, hiking, fishing and of course sailing. Captain Luc and Freddie were dynamite. Fred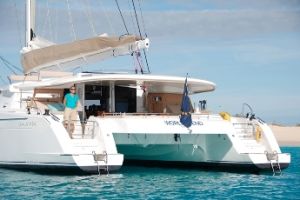 die is one of the best cooks I know." MOTU does not disappoint, and she is the perfect crewed catamaran for charter, let alone just in the BVI! MOTU is currently available between November 18th and December 14th for charter, and in mid January too. She would love to have you on board!
WORLD'S END is a 65 foot Fountaine Pajot with 5 luxurious cabins accommodating up to 10 guests. She is a fantastic charter for families and groups of friends alike, providing both great facilities in and out of the water. She has plenty of water toys, ranging from kayaks, fishing gear, to waterskis for both adults and children, as well as wake boards. On board, she is fully air conditioned and has plenty to keep you busy, if you're not exploring the wonderful islands of the BVI! She also has loads of deck space for all passengers to enjoy sailing from. If you haven't booked plans for Christmas, she is currently available for a charter in the Caribbean!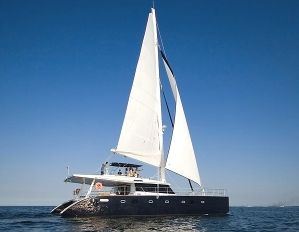 SOON COME brings our top 5 luxury crewed catamarans blog of November to a close. She is a 62 foot Sunreef, with 4 great cabins to accommodate 8 on board. Her interior is made up of light flooring and upholstery, blended with the red-looking American Cherry wood of all her furniture. She is a first class catamaran, stylish, sophisticated, and perfect for charter in the BVI. She is air-conditioned throughout, and has a brilliant deck with a table to sit all guests. She is available January through to March and would love to have you on board!
If you are interested in chartering a yacht, please visit www.boatbookings.com, or email us at [email protected] and one of our charter specialists will get back to you shortly!