MIPIM 2013 will take place between 12-15th March and will bring together all of the key players in the global property market. The Palais des Festival Cannes at the heart of the Croisette is the perfect venue for this prestigious annual event. The show provides unrivalled access to world leaders, including the greatest number of development projects and sources of capital worldwide. This year, it is estimated that there will be around 200 exhibitors from 70 countries.
We believe that the best way to enjoy large corporate events such as MIPIM in complete luxury is to charter a luxury motor yacht with a berth at the Vieux Port de Cannes. Traditionally, a key element of the show revolves around the many Super Yachts docked directly adjacent to the Palais des Festivals in the Old Port of Cannes, providing hospitality suites for entertaining and deal closing. Located right next to the Palais des Festival, the old port provides great proximity to all events, whilst giving guests more space and better service than in a hotel. Do you want to hold important business meetings or evening cocktail parties in style? If so, chartering a luxury motor yacht is definitely for you.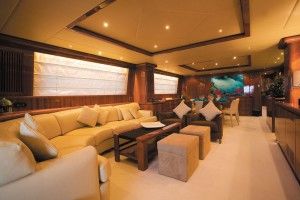 POWDERMONKEY is one of our favourite yachts for charter on the French Riviera. This Falcon 100 provides great accommodation for up to 10 guests in 5 luxurious cabins. Each cabin has an en-suite, making her an idea choice for large events such as MIPIM 2013. She has a great saloon for welcoming guests, as well as a Flybridge to enjoy cocktails, whilst watching the sunset over Le Suquet.
ANTISAN is another of our favourite yachts for large events, especially because of her Italian crew that never disappoint. This Alalunga 110ft luxury motor yacht provides comfortable accommodation for 10 guests in 5 cabins. She is the perfect yacht for entertaining, thanks to her open-plan saloon, decking and lounging areas. Her crew have great experience at offering great service for events for up to 70 guests, as well as having one of the best chefs around. She has a great BOSE sound system and a Jacuzzi, making this yacht a great choice for your MIPIM 2013.
Boatbookings.com specialises in providing boats of all kinds for MIPIM, from SuperYachts to Event Yachts to Excursions. We will recommend yachts that are best for these type of events, secure the berth, and work with you every step of the way to assure the success of your charter.
If you would like to find out more about MIPIM 2013, including how to charter a luxury yacht and applying for a berth, please contact us via our website or send an email to [email protected]. If you would like to view our MIPIM page in Russian, please do so via the link. We would be delighted to help you arrange your charter for this event, as well as personal holidays anywhere in the world.