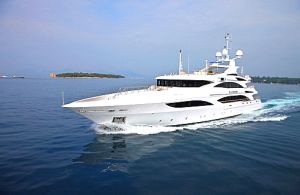 The Monaco Yacht Show 2012 showcased 100 of the world's finest super and mega yachts. The show hosted the glitterati of the yachting world, as well as over 28,000 visitors, who enjoyed some magnificent offerings from San Lorenzo, Benetti and Couach, ranging from 25 to 100m in length. This year, the show definitely did not disappoint with some incredible yachts on show, such as Vladamir Putin's NIRVANA. This 88.5m Oceanco luxury mega yacht features six decks, swimming pool, helipad, accommodating up to 12 guests in 6 staterooms. What we noticed was a key trend at this years show was the inclusion of the balcony on the newest super yachts. This feature, whether it was off a living area or stateroom, created a great open-plan layout, maximising space and light.
A major trend that was present yet again this year was the emphasis on wellness, with the addition of spas, saunas and workout areas. Luxury yachts are increasingly focused on the needs of their charterers, not solely by pampering but by also offering a holistic approach to the client's health and relaxation. There is no better place to enjoy a fantastic massage than on the top deck of a super yacht on a luxury charter around the BVI or French Riviera.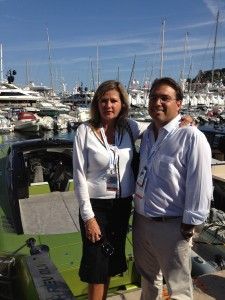 One of our favourite luxury charter yachts on show was ILLUSION, a beautiful 46m Benetti super yacht.   She has 5 beautiful staterooms, accommodating up to 10 guests, making her a great choice for friends and family. One particular feature that we particularly liked was her attention to detail, with regards to her interior design and furnishings. She was immaculate, with the finest touches throughout. After we had taken a tour inside, we were amazed by her beautiful decks, which incorporated a plunge pool with the most amazing mosaic work. We would highly recommend a weekly crewed yacht charter onboard ILLUSION during the summer months along the French and Italian Riviera or over Christmas in the Caribbean.
As well as showcasing the world's most luxurious super yachts, the Monaco Yacht Show 2012 presented some of the most modern and revolutionary boats that are available. We really liked the REVOLVER 42, a 42 ft Italian designed day charter yacht. She epitomizes speed, power and aero-dynamics. Yet, she possesses all the comforts to enjoy a leisurely day charter in Sardinia. She has a great sunbathing area to the rear and has a panoramic sunroof, optimizing light and space. She is definitely one to watch, boasting speeds of up to 70 knots, producing 1300H horsepower!
Having seen some SeaBobs on show at the Monaco Yacht Show 2012, it's obvious that these fantastic water toys will continue to be popular for the foreseeable future. This is mostly down to the fact that they're so safe and people of all ages, even young kids, are able to use them. SeaBobs can only be described as a hybrid of a body board, and a jet ski. The only difference being on SeaBobs you can travel underwater, and at quite some speed, some travelling up to 20km/h. Lots of people find them exciting, as it's a new and innovative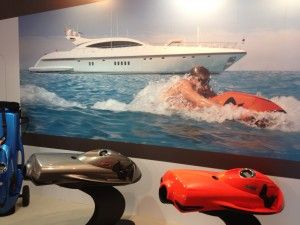 way to see sea life, weaving in and out of corals on the sea bed. With a battery life of up to an hour on some models, these water toys make for a great adventurous part of your charter. If you're interested in chartering a luxury yacht that has these fantastic toys and much more, look no further than ILLUSION.
Watch this space for more industry show reviews and insight into new press releases and futuristic designs. If you would like any more information about any of the yachts included, please do enquire via our website or send an email of enquiry to [email protected]. We would be delighted to assist you with booking the experience of a lifetime on one of our luxury yachts!