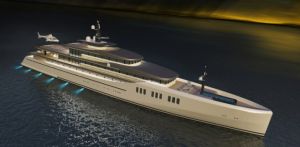 Dutch designers Vripack has recently released information about an upcoming release of their Research Vessel Yacht 2.0 (RVY), sleeker than it's predecessor, but similar in many ways, such as the way the forward is a part of the deck.
A classic raised forecastle, which comes up from the sheer, does not feature in Vripack's current design. The aptly names LIQUID SILVER's forecastle is directly connected to the Owner's deck, situated a floor above the main deck. Thanks to a missing part from the original, between the forecastle and the superstructure, Liquid Silver blends the two together, creating a more smoothly crafted design, something that we at Boatbloggings.com think is extremely elegant to look at.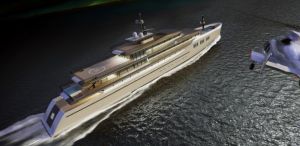 However contemporary the exterior may look, the designer decided to work with a tried and trusted layout for the interior. The crew deck finds itself above the waterline but still under the main deck, which is used for general social functions and for guests to enjoy. Above the main deck is the Owner's deck, above which is a bridge deck and space for higher social functions, and on top of that is an observation deck. In the words of Vripack themselves "never change a winning layout".
Amazingly, the designers have implemented a fully functioning Hybrid propulsion system. This is carried out by three Diesel generators, which drive electric engines that turn the propeller shafts. Vripack have eliminated the use of additional generators on board, and with the use of Lithium Polymer or Lithum Ion batteries, the yacht is able to provide generator free nights for guests and crew, or alternatively four hours of cruising without the use of diesel in preserved waters.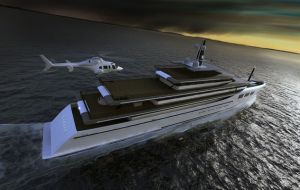 Yacht Specifications
Length       : 85,00 m (279 ft)
Beam         : 14,30 m (47 ft)
Draft          : 4,00 m (13 ft)
Materials    : Steel / Aluminum
Designer    : Vripack