Alex McDiarmid is regarded as one of the leading avant-garde luxury yacht designers, whose primary aim is to provide a product that fits the consumers require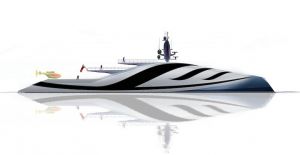 ments. He is thorough and constantly questioning the theory behind the process, questioning the norm. He has created a small team of highly skilled designers, based in Aix-en-Provence who provide innovative ideas to manufacturers all around the world.
The PENNA 100m Super Yacht is the newest concept by McDiarmid's design team. PENNA comes from the French and Latin word for feather, where there inspiration began. We must not forget that the PENNA is a concept, thus it has many different aims. Based on a feather, the team wanted the PENNA to be sleek and their designs definitely show this. Moreover, the shape allows for natural flight to flood the vessel. The hull is made from steel while the superstructure is in aluminium. The introduction of the aluminium creates strength and reduces weight and fuel consumption. Thus, it is clear to see that McDiarmid and his team want to create a product that is durable and has less impact on the environment.

There is a design for PENNA to include a hybrid power Diesel Electric propulsion system with pod drives, electric Voith Inline Propulsors/thrusters, Volvo Penta D16 MG gensets, Valance batteries, as well as a design for a conventional 4 x MTU 3600 kw set up.
The interior comprises accommodation for up to 14 guests, as well as for 24 crew. Her aft deck houses a helicopter platform, ribs, tenders, toys and potential for a sailing yacht. There are also designs to incorporate laboratories so that the yacht can be used as a research vessel. This is an exciting prospect and we look forward to other exciting concepts by McDiarmid in the future.
If you would like to find our more information on futuristic yacht designs, please watch this space. To find out more on how to charter a luxury yacht and see more Super Yachts, such as PENNA, please do enquire via our website or send an email to [email protected].