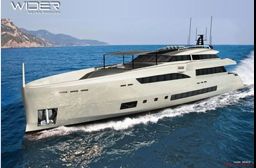 WIDER 150 is a yacht with a captivating profile and extraordinary proportions. The aim, according to the manufacturer, is to capture the aesthetic of the elegant vessels of the early twentieth century in a thoroughly modern context characterized by clean lines and taut, smooth surfaces. In addition, WIDER 150 is designed to be as environmentally friendly as available technology allows.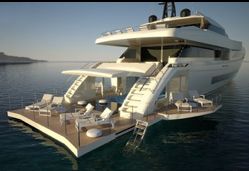 The yacht design has been calculated to dissolve the barrier between indoor and outdoor space. Access to deck spaces through virtually full beam exits and the oversize array of windows keep interiors light and airy. The position of the master suite on the upper deck allows the owner to enjoy a beautiful private terrace as well as privileged access to the flying bridge. The sundeck, accessed by means of a convenient internal stairway, offers a magnificent panoramic area for outdoor living.
WIDER 150 features diesel and electric power options that allow for maximum speeds of up to 20 knots, an ecological speed of 11 knots, and a range as great as 7100nm.
For comprehensive information about charter vessels worldwide please visit Superyacht and Luxury Yacht Charter