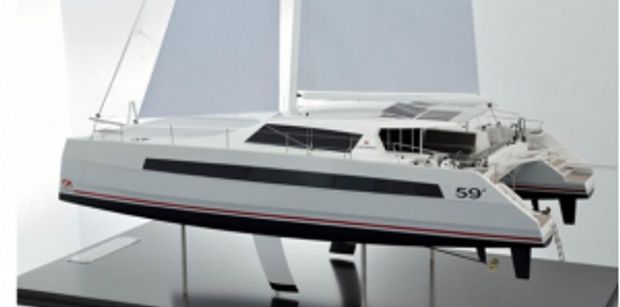 Catana shipyard announced their newest concept in recreational catamarans that features state-of-the-art innovations from the world of racing. These applications include curved daggerboards for a hydrofoil effect, a sail plan with a short mainsail that is easy to handle, larger headsails, reverse bows and straight hulls, all of which are design elements that will allow the catamaran to achieve thrilling speeds over 20 knots.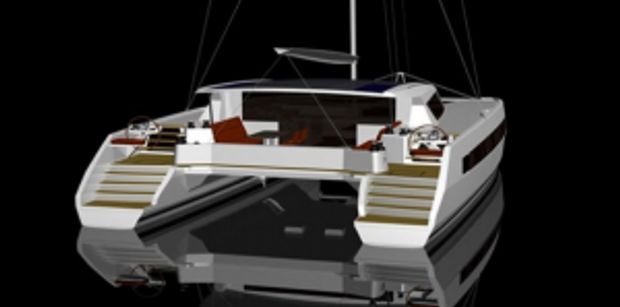 Catana shipyard uses carbon fiber construction to make the boat more resistant to damage and considerably lighter for greater speed and agility. Notable features of the new design include 360° visibility from anywhere on the boat, excellent height under the nacelle for sailing on heavy seas, daggerboards for close-hauled sailing without the `trip` risk and a carefully calculated beam/length ratio for better stability.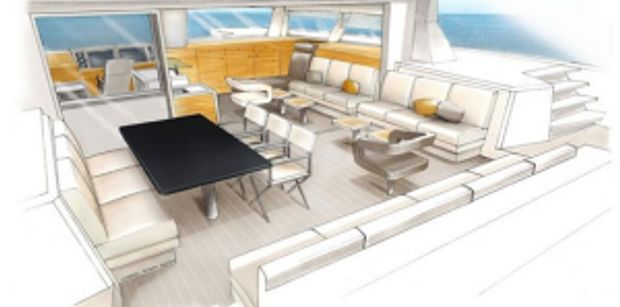 In addition to high performance features, the Catana 59 offers plenty of interior space and amenities to make the yacht a comfortable live-aboard. A retractable bay window brings the outdoors in for an open feel. Salon furniture is convertible to accommodate dining and relaxation. A center island galley provides ample workspace. Cabins are roomy and include plenty of storage. Equipment includes a refrigerator, freezer, desalination equipment, generator, oven, washing machine, dishwasher, wine cellar, television, air-conditioning, heating and diving compressor.
LOA: 58.73ft.
Beam: 31.14ft.
Draft boards up: 1,56 m
Engines: 2 x 110 cv
Fuel: 800 lt.
Water: 800 lt.
Catana is one of the popular charter yacht brands. Please follow this link to view a selection of Catana Catamarans for Charter available world wide. For expert information visit the Luxury Crewed Catamaran Charter Guide.