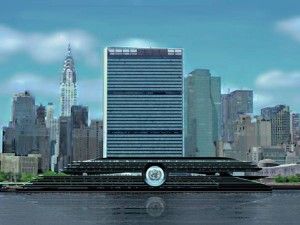 Richard John Sauter, a long time visionary in the design of the technologically evolved, environmentally responsible superyacht, is diversifying. At the recent RINA Conference held in Genoa he made a presentation emphasizing the '10 basic steps that will place the Post Carbon Superyacht at the forefront of mankind's inevitable Post Carbon Future.'  Sauters innovative superyachts harness "the collective maritime resources derived from the sun, wind, waves and currents at sea."
Sauter has come ashore to tackle sustainability issues with the prototypical Bali Net Zero Hotel, with solar panels numerous enough to collect more than double the amount of energy required to run the hotel. By generating and selling this surplus electricity by day, the Hotel is able to offset the electricity they will consume from the grid by night. The Solar Energy generated by the Hotel complex will be sold to the local community with the profits used to cover the cost of laying down, maintaining and further expanding the systems infrastructure.
Richard Sauter founder of Sauter Carbon Offset Design commented "Building Net Zero Green Power Resorts instead of a coal fired power station is a realistic, cost effective alternative for Bali. The Chinese Coal Fired power station proposed for Bali is what made China the number one environmental polluter on the planet today. Green Power from Net Zero Hotel Resorts like this one will show that collectively, the Tourist Industry in Bali can provide enough Solar Power to establish the island of the Gods as the number one Eco Tourist destination in the world".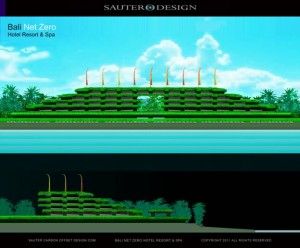 The Bali Net Zero Hotel Resort & Spa generates 2.5Mws of electricity a day from its solar cell array to maintain a Zero Carbon status. Solar panels which have a 25 year warranty will be deployed as an integral part of the cascading roof on 4 floors.
Being a renewable and sustainable power generation station will qualify the Bali Net Zero Resort as a Certified Carbon Offset Project allowing for the sale of Carbon Offset Credits to guests in the form of a 5% surcharge on Hotel facilities. The cost of the entire Solar Power Generating System may be recovered in less than 3 years. As a Certified Carbon Offset Project the Bali Net Zero Hotel & Seminyak Solar Power Station will offset over 5,000 tons of CO2 per year.
Please use these links for information on Green Chartering and Carbon Offset Credits.