By Alecia Adamson, REEF Field Operations Coordinator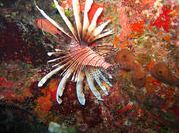 Changing Seas, an original production of Miami's public television station WPBT2, will host a live online screening event of Alien Invaders, the series' latest episode focusing on the lionfish invasion in the Caribbean and Western Atlantic. Alien Invaders will be screened live on the Changing Seas website www.changingseas.tv/webcast on Thursday, June 2nd at 7:30 p.m. EST. During the screening, dive enthusiasts will have the opportunity to join an online chat with producers and the experts featured in the program. REEF's Lad Akins and researcher Stephanie Green will be be online to answer questions live during the event.
The Reef Environmental Education Foundation is a grass-roots organization that seeks to conserve marine ecosystems by educating, enlisting and enabling divers and other marine enthusiasts to become active ocean stewards and citizen scientists.
Please visit the Caribbean or Florida and the Bahamas to explore the wonderful options that are available for dive charters.