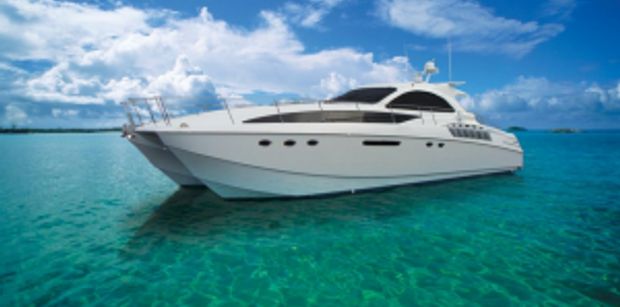 The Axcell 650 is described as combining the best attributes of a power cat with the thrill of a Hovercraft. Although we were not fortunate enough to sea trial the yacht, spending time on board with owner and developer of her patented technology, Bruce Barsumian, was quite revealing.
Barsumian, founder and president of MACS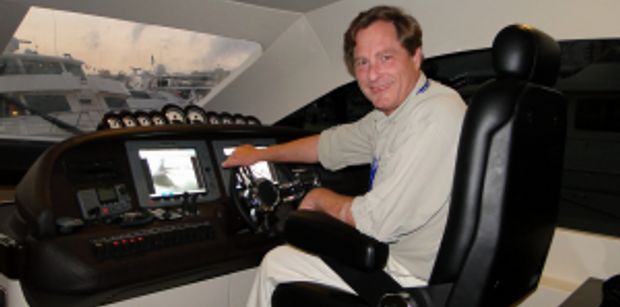 Research, is the owner of a myriad of intriguing patents, primarily for the counter surveillance industry. Axcell's proprietary HybridAir' Technology is his first nautical invention. "This is his brainchild of sixteen years'" his son told us, "Dad started with a sixteen footer mounted with a blower that you would use to circulate air in a factory. It went so well that he went from there to end up with this, 65 feet long and 21 feet wide."
The Axcell is engineered to utilize a Hovercraft lift fan to pump air pressure into twin air-cushioned cavities to provide lift and lubrication to the hulls. A significant reduction in friction allows the hull to transition smoothly from displacement mode to high performance planing. The system allows for a comfortable ride, high speed, outstanding fuel efficiency, and excellent handling and performance. "Our goal from the outset was to design the ultimate 65' cruising yacht that combines the best in engineering, design, performance, styling and comfort," stated Barsumian."
"It's an air-lifted hull. What we're doing is talking 6% of the power off the main engines, which are C18s, through a hydraulic pump that powers the blowers that lift half the weight off the boat. So they're lifting 30K lbs. of the boat that weighs around 60K lbs. So we have less friction in the water to make us more efficient. At a fast cruise of 36 knots we burn 90 gallons, and at a slow cruise of 26 knots we burn 45 gallons of diesel per hour. By using the airlift technology it enables us to burn less diesel and obtain speeds up to 40 knots."
The AXCELL 650 features Euro-style cruiser lines created by award-winning mega yacht designer J.C. Espinosa, who successfully gives the vessel a volume that belies its 65-foot LOA, and an elegance on a par with the finest motor yachts in the range.
The expansive open salon and formal dining and lounging areas are roomy enough for sizeable social gatherings. The trendy interior features engineered zebrawood with a fine polyester finish, stunning onyx countertops, plush leathers and rich fabrics and textiles.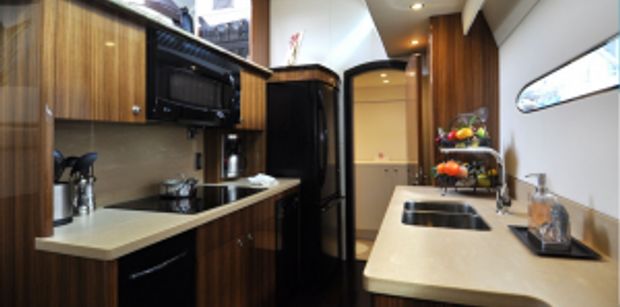 Everything on the boat is based on efficiency. We were particularly impressed with the portside galley that houses full size appliances. Designed as a kitchen to cook in, the galley includes a convection oven, trash compactor, dishwasher, and roomy fridge.
Accommodations are for six guests in three ensuite staterooms. The pilothouse offers 360-degree panoramic views through port, starboard and aft drop windows for an airy, open feel. A delightfully sprawling sunroof feels like a convertible top. Other notable features include a fully garaged 16' R.I.B. tender, twin 1150 Caterpillar turbo diesels and distinctive custom signature exterior gills that are stylish and functional.
It is evident that the Axcell 650 is a luxury sport catamaran that incorporates cutting-edge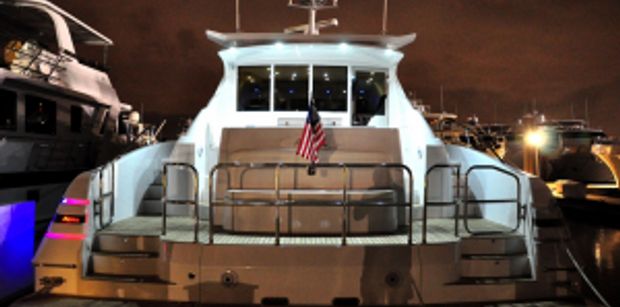 marine technology for cost-efficient fuel operation. Moreover, the yacht features stunning and functional interiors. As a relative newcomer to the market, we predict that the Axcell 650 will quickly become a powerful industry contender.
Specifications
LOA: 66.5 ft.
Beam: 20.8 ft.
Fuel: 650 Gal.
Waste Capacity: 55 Gal.
Cruise Speed: 36 kts.
Maximum Speed: 40 kts
Propulsion: Twin Caterpillar C-18 1150 HP ZF 500A Transmissions
Generator: 15KW Westerbeke with Sound Shield
Photos courtesy Axcell Yachts
Explore the world of Luxury Crewed Catamaran Charter and Bareboat Catamaran Charter and cruise to the most popular destinations in style and comfort.