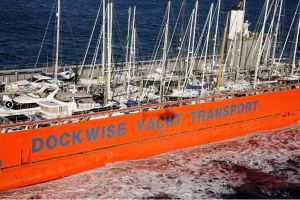 Some unions are meant to be, and when Floating Life, an international yacht management and service company, was introduced to Dockwise Yacht Transport a year and a half ago, it seemed a match made in heaven. Floating Life bears responsibility for some of the world's most prestigious yachts and demands the highest degree of professional competence from those involved with the coordination of countless technical, administrative and logistical details. In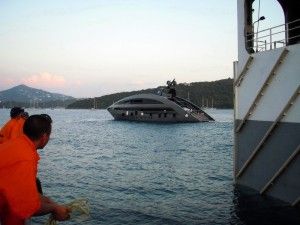 the case of transporting Floating Life's three 131- foot Norman Foster-designed luxury superyachts back and forth between the Caribbean and the Mediterranean, Floating Life entrusted Dockwise Yacht Transport.
MY Ocean Emerald, MY Ocean Pearl and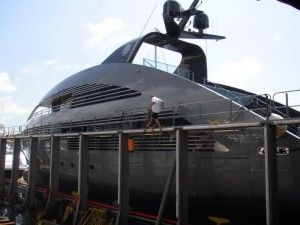 MY Ocean Sapphire are the basis of Floating Life's unique fractional ownership program, by which 24 families have owner access to the yachts for a specified number of days per year. With fractional ownership, these families are able to reserve their cruise dates, are assured safety and first class service, and significantly reduce cruising costs.
The yachts will be berthed in Greece, Sardinia and the south of France this summer. Toward that end, both Ocean Emerald and Ocean Pearl completed a voyage in March from Martinique to Toulon aboard Dockwise Yacht Transport's Super Servant 4.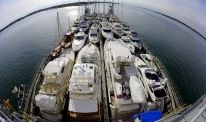 Dockwise owns a total of four yacht carriers, including the 686-foot (209 meter) super ship Yacht Express, and operates on a regular schedule to deliver yachts around the world. The ships, looking something like giant moving marinas when they come to town, use their unique loading method to allow yachts of any size to be safely floated on and off as cargo. The carriers submerge themselves by pumping nine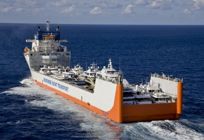 million gallons of water into their ballast tanks; the vessels are floated into place one-by-one, then sea-fastened before the ship pumps dry to prepare for boat transport. Once the ship reaches its final destination, the process is reversed so the yachts can safely disembark with captains, owners and/or crews aboard to take them by their own power to new adventures. Dockwise Yacht Transport also orchestrates lift-on/lift-off arrangements with third-party carriers for clients wanting a more flexible shipping schedule or to explore destinations where the float-on/float-off ships are not scheduled to go.