Whatever type of bareboat charter you plan in the Bahamas or Caribbean  you'll want to impress family and friends with this enticing yet simple dish. The recipe is provided exclusively to Boatbookings clients by Lisa Sellers, executive chef at Peter Island Resort. Be a gourmet chef on your next charter by using the cornucopia of fresh ingredients locally available in paradise.
Chef Sellers' Signature Shrimp Dish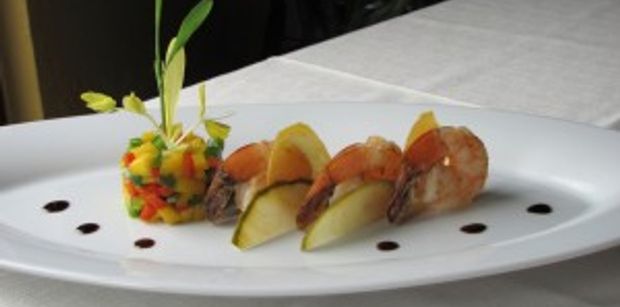 Lemongrass infused Shrimp, Green Papaya & Mango œSalad
Serves 4 People
12 shrimp- size 16/20, peeled & deveined
1 stick fresh lemongrass
Sea Salt & Freshly ground black pepper
1 ripe mango
1 green Papaya
½ Sweet red peppers
½ Sweet Green Peppers
Dried Mango slices
Dried Green Papaya Slices
A small pinch fresh Chilies
Extra virgin Olive Oil
Method:
Crush the lemongrass and chop, mix with shrimp & salt & Pepper, and a drizzle of olive oil cover and marinate for a few hours
Finely chop mango, green papaya, peppers & mix, add chili and season to taste, bind with a small amount of mango puree
Heat a sautéed pan, with olive oil, sear of the shrimp both sides, and cook, this will take about 3-4 minutes,
Arrange the mango & green papaya salad in a mold; place the shrimp on the plate, putting dried papaya & Mango slices in between the shrimp
Garnish with Micro greens or arugula.
Enjoy!