The Cannes Festival de la Plaisance (Cannes Boat Show) this September provides a wonderful opportunity to see many fabulous yachts on display. Among them will be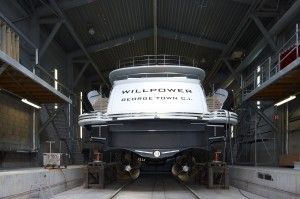 Heesen Yachts' ninth in the 3700 series, MY Willpower. The yacht, styled by Frank Laupman of Omega Architects, derives a particularly impressive presence form her streamlined profile and lustrous Super Jet Black hull.
The goal of interior designer Gabriel Bernardi of was to create a timeless sense of style through the use of interior elements reminiscent of classic yachts. He states, "My inspiration for this interior and most of my interiors in general, is this incredibly sophisticated era between the two world wars, where style and entertainment took position over outward displays of wealth. Craftsmanship, style, beauty and above all charm were important ingredients to life and people had an aesthetic appreciation and were rarely vulgar."
Although unusual in contemporary interiors, classic yachts featured freestanding furniture that could be rearranged to accommodate varying social situations, from business meetings to cocktail parties. Bernardi reintroduces this functionality with the same high-level sophistication and quality craftsmanship found on storied vessels of the mid-war period.
Despite MY Willpower's retro aura it is a thoroughly modern yacht. The owner's suite, located on the main deck, and four guest cabins are located on the lower deck, are beautifully appointed with convenient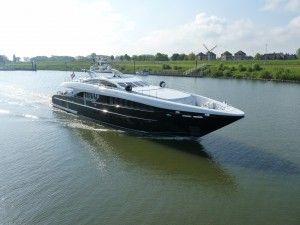 amenities and ample storage. Exterior social areas include the spacious sundeck with sitting area, wet bar and spa pool. Powered by twin MTU 16V 4000 M90 diesel engines, MY Willpower can slice through waves at a speedy 31 knots. In addition, VT Naiad, Active trim tab stabilization helps to insure a smooth ride.
LOA: 122'
Beam: 24′
Draft: 7'
Maximum speed: 31 knots
Range: 2,000 nm @ 12 knots
Fuel: 8,700 Gal.
Water: 2,100 Gal.
Hull type: twin screw, hard chine, semi-displacement
Hull and superstructure material: aluminum
Photo Credits: profile Ren̩ Keuvelaar Рshed Dick Holthuis
We will be blogging all the news from the Cannes Boat Show – and if you plan to be there and would like to look at specific charter yachts, please feel free to contact us – we'd love to meet you!