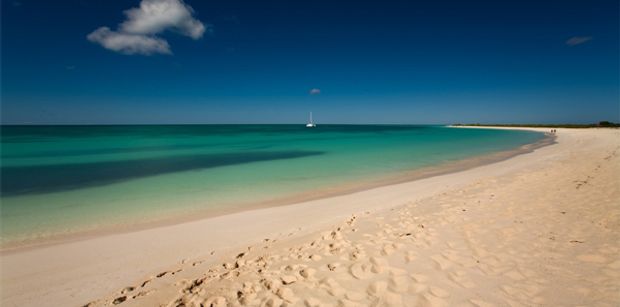 The sail to Anegada, which took only 2 1/2 hours, was simple – one tack is all that's required because you're sailing north with a predominantly easterly wind. Instead of mooring with most of the other boats, our captain Alex suggested that we moor at the western side of Pomato Point.  This is a great anchorage if you want to truly have the beach and water to yourselves – there was literally no one else but us moored there, and the only establishment was a small hotel that will be happy to make you a pina colada if you're in need.  You can walk the beach to the lobster restaurants (we enjoyed the Lobster Trap) – it takes about 15 minutes. Or cabs are available via the radio.
The beach here really is fantastic – clean, white with small pink specks, seemingly endless. The closer you get to the western point of Anegada, the more fine it becomes, until you're almost walking in a light powder. And the nicest thing is, that there's virtually no one on it, as can be seen by this picture taken early-afternoon.
What to do on Anegada? There are really only a few things, all enjoyable.  Hang out on the beach, watch the sunset, eat fresh grilled lobster, go snorkeling, experiment with Rum drinks.  To this we added "make a bonfire and have a party on the beach", which was highly successful!