Private Boat Charter vs Commercial Cruise Liners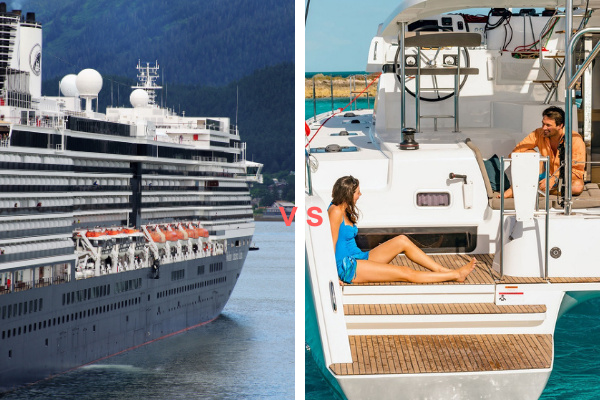 Private Boat Charter vs Commercial Cruise Liners. Discover the differences between cruise liners and private yacht charters and why you should book a private yacht charter for your next vacation!
Differences | Price | Example | Private Charter Types 
We have all seen cruise lines, whether in your home town or on vacation. They have unfortunately been in the news recently because of 
COVID19
 and this has brought attention to these often overcrowded boats. For many years the cruise liner industry dominated the maritime world with their package deals and "everything you need on the boat" style marketing. Cruise Liners have been around since the early 1900s but became popular in the 1960s where up to 7000 guests can be onboard. This opened up, what used to be, an elitist market.
Booking a cruise was a way where a family could go away, visit a few islands and have everything they need onboard - but times have moved on. People want more, and guests are looking to explore more remote places with the people that matter - not with 7000 other people. With the manufacturing of private yachts bringing the cost of yachts down, this has paved the way for a unique, bespoke experience which is proving to be one of the most popular vacation ideas to date.
A private yacht charter - with everything you need onboard accompanied by the people who matter.
---
Differences between a private boat charter and a commercial cruise liner


Itinerary
Cruise liners are very good at having a set itinerary. You know where you will be on what day, and at what port and at what time. Due to the size, and with the number of guests on board, it is imperative that they stick to a schedule (yes they leave people behind if they are not on board!) Cruise liners are absolutely huge, often referred to as 'death' by sailors sailing past them and can pretty much go through any weather (within reason) allowing them to stick to their schedule. 
Now, I don't know about you, but I'd say I stick to a holiday itinerary about 40% of the time. I always discover locations that were not on the list and more often than not want to stay and explore more. With a private yacht charter, this gives you the flexibility to do so. The best thing is, if you have hired a yacht with a skipper, they act as your personal tour guide. The skipper will want to know what you are interested in - do you want shops/towns or do you want quiet anchorages and food onboard. If you book through us, we can help create your own personal itinerary with your preferences in mind. We travel to the destinations so we can assist you! On your valuable week off from work, do you really want your week to be so structured to the last minute? The answer is probably no...
Comfort and atmosphere
Cruise liners, similarly referred to as a hotel on water, really does equate to what you pay for. The interior rooms are like a small motel, while the suites offer a more luxurious vibe which comes with a hefty price tag - similar to a suite in a hotel. Having said this on a yachting vacation, regardless of it being a private charter or a cruise, you won't really spend a lot of time in the bedroom. However, you will spend a lot of your time on the decks. If this is on a private charter, there is no better place to hang out than on your private flybridge, aft deck space or the front (bow) of the boat. On a cruise liner, you have the inside entertainment areas and outside areas such as the swimming pool - the main difference is is that this is shared with 7000 people. The seating works just like a hotel -first come first serve with 8 am sprints needed to ensure you get a place around the pool.
Food and drink
There are roughly 7000+ guests on one cruise ship, so expect mass-produced food designed for the many, not the few. Now if that's your cup of tea, or if the food doesn't particularly interest you then no problem, a cruise could be for you! If the food on vacation is an important element for you and your guests then read on... Chefs on cruise ships are unable to head on down to the local market in the morning to purchase the catch of the day or go snaring for your lobster starter for the evening ahead. If you, however, want personalized meals, made with local, fresh produce, created in a local, authentic way then a private charter is for you. Your own private onboard chef will have received your preference sheets and created a bespoke menu based on your dietary requirements, likes, dislikes, allergies, etc. Why would you ever opt for anything less?! Depending on what charter type you have booked, an onboard chef will come with the yacht along with the other crew. 
---
Price of a private yacht and a cruise liner
Roughly speaking, you are looking roughly between $750 (very budget option) - $2,800 (5* option per person), 7 days, for a cruise liner. If you are going away with family, this could in excess of $21,690 before you even start to factor in the extortionate dinner prices, and excursions.
For $7,000 you can charter a 2020 Catamaran with a skipper in high season and have the yacht to yourselves. Of course, there are other costs to factor in but as a whole, when wanting to have a vacation on the water with the family, a private charter is more often than not, a better choice economically compared to a cruise liner.

For more information on chartering costs please look here.
---
Example price comparison between a private boat charter and a cruise liner                                     
 

Private BVI Crewed Catamaran

Popular Caribbean Cruiseliner

Price per Week (High Season)

$27,000 (ALTESSE | 4 Cabin Lagoon 560)

$21,690.00

(4 Sea View Cabins – 8 guests) ($2711 / week / Person)

Gourmet Breakfast, Lunch and Dinners

Included

$5320+ ($95+ / Day / Person)

Drinks

Included

$1,400 ($50 / Day / Person)

Daily Watersports

Included

Swimming and some 'surf' options available

Excursions (The Baths, Jost Van Dyke)

Included

$2,000+ excursions are not included

Transfers

Included

$150+

Total

$27,000  (Plus Gratuity)

$30,750+ (Plus Gratuity)
---
Private Charter Types