Turkish Gulet and Blue Cruise Charters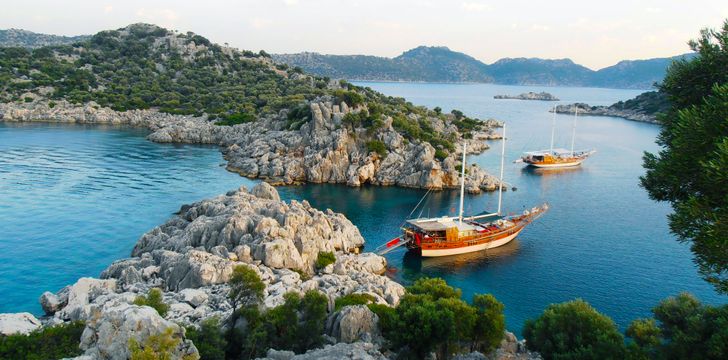 About Gulets and Blue Cruise Charters in Turkey
What is a Gulet? | About Turkish Blue Cruises | Places to See, Things to do | Itineraries | Our Turkish Gulets
One of our most popular crewed yacht charters in the Aegean Sea "Blue Cruise" in South Western Turkey on a gorgeous luxury Gulet. Gulet Charters offer the perfect way to enjoy the historic Aegean Coast of Turkey on a crewed motor-sailer where the friendly crew will assure a delightful charter experience in Turkey.
---
What is a Gulet Charter?
Gulets (often spelled Gullets) were originally wooden fishing boats used in Southern Turkey. The Turks have always been expert boat builders, and have evolved these boats from spartan fishing boats into luxury crewed sailing yachts with all of the amenities. Gulets are perfect yachts for a relaxing sail around the alluring and historical ports of Southern Turkey including Bodrum, Marmaris, Gocek, and Fethiye on a Turkish Blue Cruise.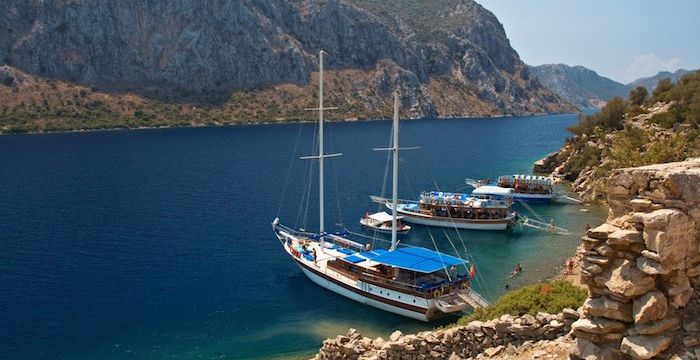 Gulets are hand-built by craftsmen from local pine and mulberry on the Turkish Mediterranean coast, and from local oak and chestnut on the Black Sea. Their superstructures are usually of teak, iroko, or mahogany. These boats are equipped with motors as well as a fully functional ketch, schooner, guletta or gaff riggings.
Gulets generally offer large expanses of deck space perfect for lounging or sunning, large salons and dining areas, and several cabins with individual bathrooms. The most luxurious offer air conditioning and all of the water toys you'd like.
The number of passengers on a boat depends on the yacht's size and design. All the gulets offer their guests separate accommodation, services and entertainment. The friendly crew have their own quarters and will give your party as much privacy or service as you desire. Most boats have air-conditioning in the cabins, cooling them comfortably for an afternoon siesta and for the night. The system is generally turned off when the crew retires to reduce noise, especially in the harbors.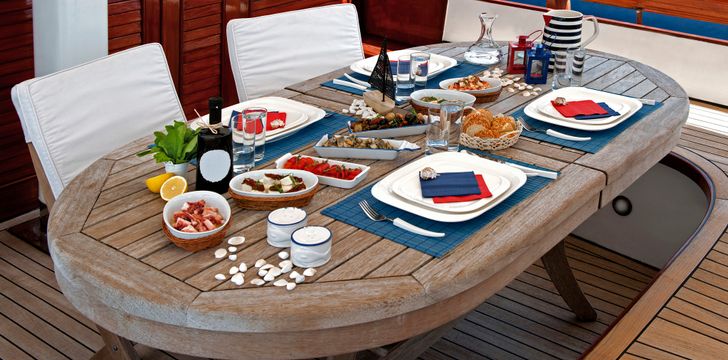 Lounges are big enough to seat all guests, should they prefer to dine or relax below deck. On-deck, accommodation is generous, with sun loungers and mattresses for guests to enjoy the Mediterranean sun. Aft-deck and mid-deck lounges, with sun awnings, offer cooler alternative areas in which to relax.
Gulets in many ways are like small full-service hotels where every room has a constantly changing sea view. They are often also referred to as motor-sailers, as they can motor to your destination when required if the winds are not cooperating.
---
About Blue Cruise Gulet Charters in Turkey
In the 1960s a group of Turkish artists - two writers, a poet, and a painter - made the first so-called 'Blue Cruise' on a small fishing boat, known as a gulet. They explored the idyllic coast and crystal clear waters of the Turkish Mediterranean. Since then the Blue Cruise has become a uniquely Turkish way of enjoying coastal sailing. The first Blue Cruise gulet had bunk beds and a toilet fitted in its hold, (where fish used to be stored), and a fresh water tank on deck.
Since then, the singular design of gulets has undergone a face-lift as comfort-conscious guests seek bigger and better accommodation. Today, Turkey's indigenous sea-going vessels blend practicality. luxury and tradition in a relaxed style.
---
Places to Go, Things to Do - Key Blue Cruise Destinations
A Blue Cruise generally involves a leisurely pace mixing in ancient ruins, pretty ports, and secluded bays with swimming, snorkeling, and sunbathing. Here are some of the most visited destinations on a typical Blue Cruise.
BODRUM AND THE GULF OF GOKOVA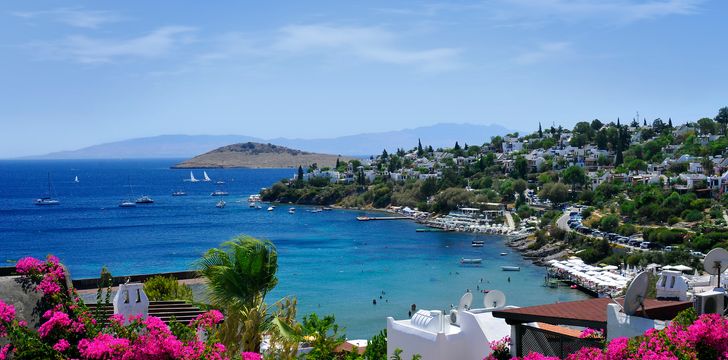 Bodrum, built on the site of ancient Halicarnassos, is a busy, sophisticated town with numerous restaurants and bars, as well as shops and bazaars. The harbor is overlooked by the 15th century Crusader castle, built by the Knights of St John of Rhodes. By day and night, Bodrum is the liveliest town on the Turkish coast. The Gulf of Gokova lies between Bodrum and the Datca peninsula, a mixture of deep blue seas and peaceful, often deserted bays. You can bathe in the hot mineral springs on Kara Island and explore the 4th century BC ruins on the Sehir Islands, where Cleopatra is believed to have lived and created the beach for her lover Anthony by shipping sand from Egypt. Knidos is famous for the 4th century BC statue of the first naked Aphrodite, goddess of love, reputed to bring good luck to sailors. Today only the pedestal ruins are left.
Our Bodrum Gulets and Charter Yachts

GOCEK
Gocek is an exclusive yachting center which caters to the ever-changing tastes of true boating enthusiasts. Within twenty-five minutes' reach of Dalaman Airport and unspoiled by mass tourism it is an ideal place to start your holiday.
Our Gocek Gulets and Charter Yachts
GULF OF GOCEK
One of the Mediterranean's best sailing locations, the gulf of Gocek's land and seascapes are irresistible. Dotted with islands and indented by coves, it has many anchorages with stunning scenery - Cleopatra's Bay (where Cleopatra entertained Anthony and actually had a sandy beach built for her), Wall Bay and 22 Fathom Bay - to name just a few.
FETHIYE, OLUDENIZ & GEMILER ISLAND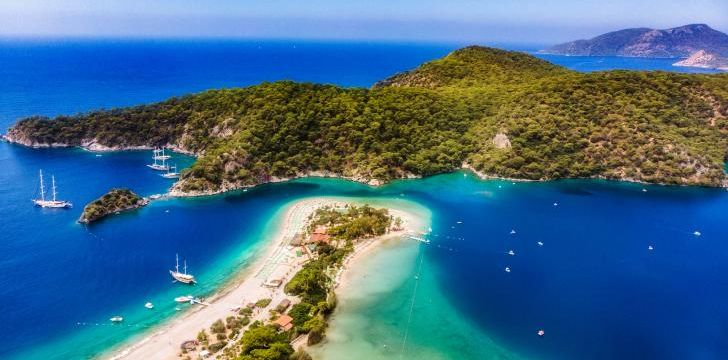 The Gulf of Fethiye covers some sixty square miles and has more than two dozen anchorages. The famous lagoon and the white sand beach of Olüdeniz lie within a few miles of the picturesque anchorage of Gemiler Island, where Byzantine ruins lie tucked among pine trees.
Our Fethiye Gulets and Charter Yachts
KALKAN
The charming little town of Kalkan sits at the end of a bay, which it overlooks. The small marina is surrounded by restaurants and bars, and its narrow streets are lined by old Turkish houses with rickety wooden balconies and bougainvillea-covered walls.
KAS
Ancient Antiphellos is another charming town with palm-shaded promenades and its picturesque peninsula reaching out to a Greek Island on one side and hosting a new marina on the other. Lycian tombs intermingle with carpet shops, restaurants, and lively bars. A Byzantine amphitheater overlooks the sea and is only five minutes' walk from the marina, providing a perfect sunset location.
KEKOVA & KALEKOY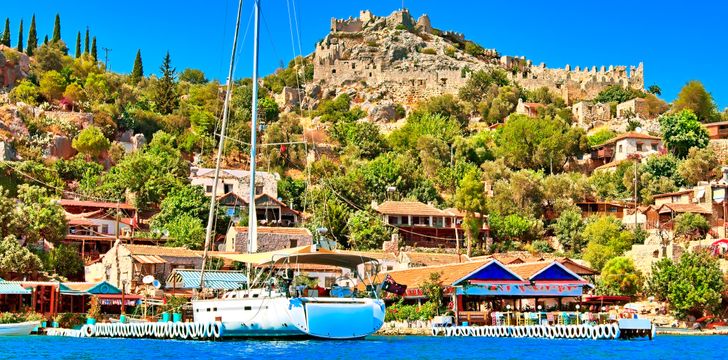 The oldest shipwreck known to mankind lies on the way to Kekova from Kas. Kekova Island with its submerged ruins lies across from Kale Koy, the most picturesque fishing village on the Turkish coast. The view from the top of the hill through the arches of the ancient fortress is spectacular. Nearby attractions include St Nicholas Church and ancient Myra at Demre, and the small village of Ucagiz.
GOCEK TO MARMARIS
Ekincik, west of Gocek, is an ideal place to leave your yacht while visiting ancient Caunos. One should plan on spending a day there, to admire the scenery and the many ruins. There are baths, a small theatre, a temple and a market place, all of Roman origin.
MARMARIS
Like a calm lake, the Bay of Marmaris offers excellent moorings. Marmaris was an important stage on the Anatolia-Rhodes-Egypt trade route. The citadel built by Suleyman the Magnificent in the 16th century sits on the hill behind the harbour. From a small fishing village it has rapidly grown into a bustling holiday resort.
Our Marmaris Gulets and Charter Yachts
HISARONU GULF
The Gulf of Hisaronu is another area of breathtaking natural beauty. You will find medieval fortresses and ruins on the islets with trees going down to the water's edge. Tiny coves and inlets, where only a few yachts can enter, are ideal for lunchtime stops and swimming. The pretty small towns of Bozburun, Selimiye and Datca, where you can pick up fresh supplies, and find restaurants, bars, and craft shops, are well worth a visit.
---
Blue Cruise Itineraries
Blue Cruises generally begin in Bodrum, Gocek or Marmaris. We do not have fixed routes, as these conflict with the principles of private sailing. Alternatively, we suggest a route based around where you wish to go. Below is a possible itinerary for a one-week Blue Cruise:
Sunday - Gocek
Embark the boat in Gocek in the afternoon and leave the marina. Anchor overnight in one of the forty anchorages of the Gocek Gulf.
Monday - Oludeniz
Sail to Oludeniz and anchor overnight at Gemile (St. Nicholas) Island. It is believed that St. Nicholas lived on this island. Gemile was one of the sanctuaries for the pilgrims from Europe on their way to Jerusalem and Palestine - which explains why there are so many churches on this very small island. (B.L.D.)
Tuesday - Fethiye
Sail to Fethiye and enter the marina after breakfast. Visit the weekly local market, which is the biggest of the region. Return to the boat in the afternoon and sail to Fethiye Gulf to swim and anchor overnight. A diving package can be arranged for those who are interested. There would be three dives in different sites. Diving guests leave the boat after breakfast and join the dive boat, returning in the afternoon. (USD 75) Please ask for more diving information. (B.L.D.)
Wednesday - Gulf of Gocek, Cleopatra's Beach
Set sail to Gulf of Gocek after breakfast visiting Cleopatra's Beach, Wall Bay, and anchor overnight in Tomb Bay or Monastery Bay. At Cleopatra's Beach, enjoy the amazing sand she is said to have fallen in love with because it is so fine and doesn't stick to your body.
Thursday - Gulf of Fethiye, Aga Limani
Sail in the Gulf of Fethiye during the day and anchor overnight at Aga Limani. Optional hiking late afternoon.
Friday - Ekincik, Dalaman, Dalyan
Sail to Ekincik, anchor for lunch. Transfer to a small fishing boat and sail to the delta of Dalaman River, to Iztuzu - Caretta Caretta beach. Visit Caunos Ruins and Dalyan with English speaking tour guide. Mud bath is optional. Return to the boat in the afternoon. Guests who wish to can dine at an exclusive restaurant in Ekincik.
Saturday - Marmaris
Sail towards Marmaris Gulf, to Kadirga, Turunc or Cennet Island for lunch, then stay overnight at Marmaris Marina.
Sunday - Disembark Marmaris
Disembark after breakfast.
Contact us for further information and blue cruise itineraries
---
The Top Turkish Gulets
We have searched for the best Gulets and can offer you virtually all of the high-quality Gulets in Southern Turkey.
See our Turkish Gulets See our entire gulet charter listing Contact us for a Blue Cruise Proposal
Other Articles of Interest
Charter destinations