Turkey 7 day Sailing Itineraryin the Gulf of Gokova - Bodrum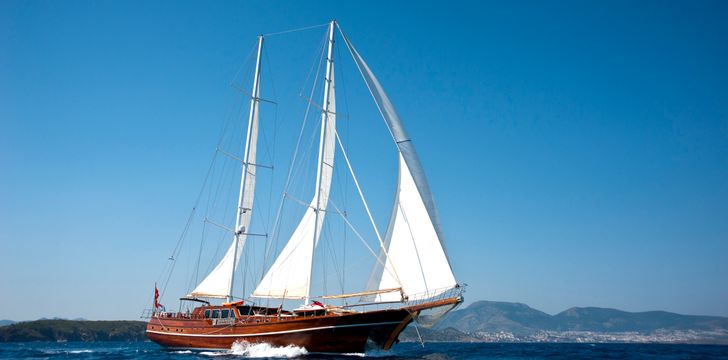 Turkish Blue Cruise Sailing and Gulet Itinerary in the Gulf of Gokova (Bodrum - Gulf of Gokova - Bodrum)
The Gulf of Gokova is where the Turkish concept of the blue cruise or voyage originated. In this spectacular gulf, numerous small secluded bays offer perfect anchorages, sheltered against the winds by the huge pine forests surrounding them.
---
Day 1 - Bodrum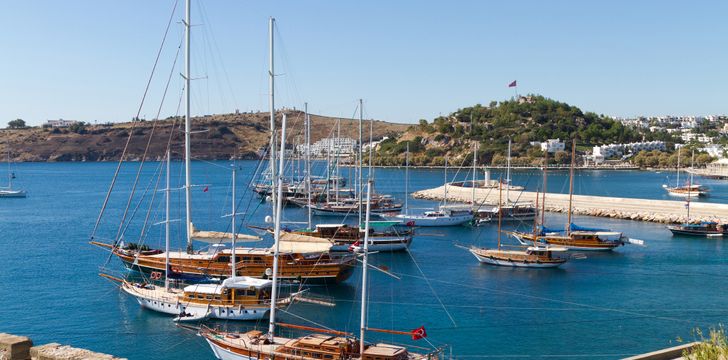 Board your gulet, sailing boat or crewed motor yacht in the lively Port of Bodrum. You will be welcomed by your crew and shown around your floating home - your base for the next week. Your first day and night are spent in this glorious ancient port, with opportunities to wander at leisure through the charming streets of the enchanting historic town.
Bodrum has a rich history that dates back to the 12th century B.C. The city, originally known as Halicarnassus, was the birthplace of Herodotus - the Father of History - who lived in the 5th century B.C. He was the first historian to collect material in a systematic way, test its accuracy to a certain degree, and then arrange it in a vivid and well-constructed narrative.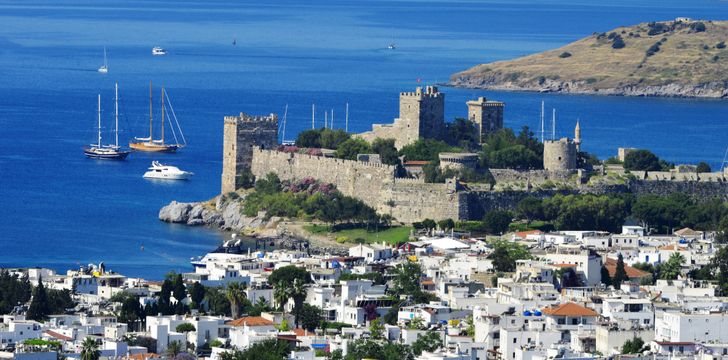 Home to numerous immensely cultured civilizations, Bodrum was the site of The Mausoleum of King Mausolus, one of the Seven Wonders of the World. It was destroyed during the Crusades and converted to the Castle of Saint Peter which today houses the world`s largest underwater archaeology museum.
Another unique historical building is the Amphitheatre - one of the oldest theatres in Anatolia standing since Classical times with an impressive capacity of 13,000 guests. Today it still plays host to many popular shows and concerts.
Another not-to-be-missed sight is the Myndos Gate where Alexander the Great first entered Halicarnassus.
---
Day 2 - Orak Island, Çökertme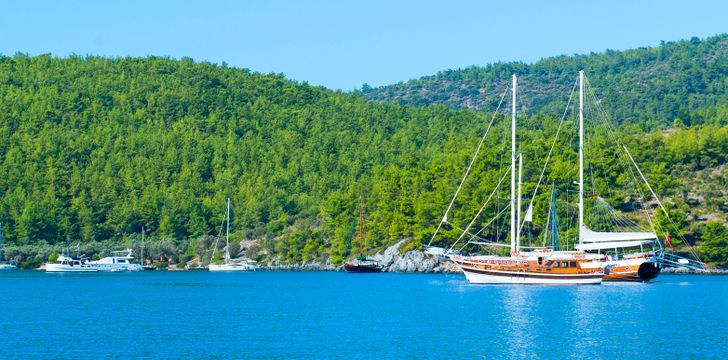 The first stop is Orak Island. After a leisurely lunch and a quick swim or dive in crystal-blue waters, your captain will hoist the sail to Çökertme; a small fishing town where you can enjoy a gentle stroll along its shoreline.
---
Day 3 - Seven Islands and Kufre Bay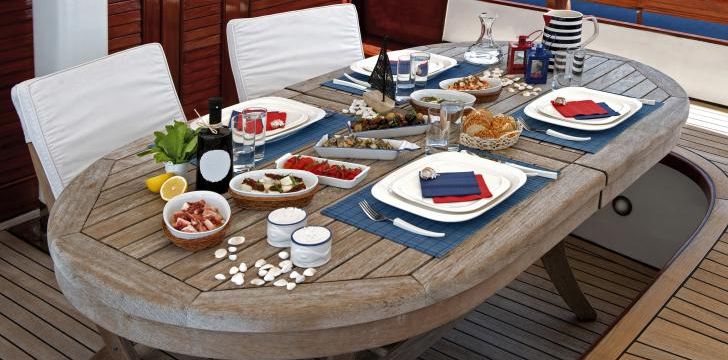 After breakfast, set sail to Seven Islands, where you will see many small idyllic islands clustered in close proximity with each other.
The first stop in the region is Kufre Bay - docking at Uzun Liman or Long Port before tea time - circa 5 pm. Dinner and overnight here.
---
Day 4 - Tuzla Bay, English Port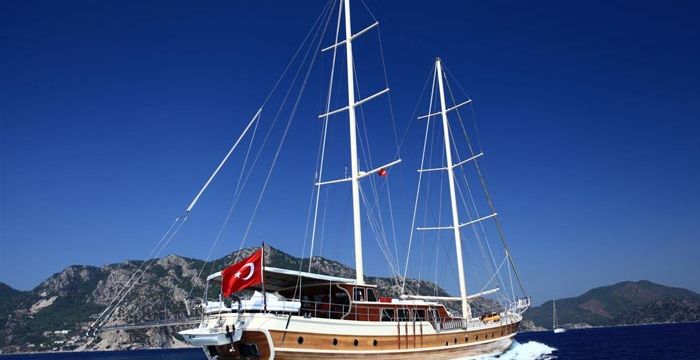 After breakfast and a short sail, we'll be mooring in Tuzla Bay to enjoy another gloriously refreshing swim in its turquoise-blue waters. Morning swimming will certainly become one of your most-enjoyed daily activities! For lunch, your captain will hoist sail and head to Longoz Bay, another paradise, sheltered with huge pine forests.
After lunch, you can enjoy a short walk in the forest and take a rest in Ali Baba`s local cafe. Then sail to English Port for dinner and another peaceful overnight stay. The name English Port comes from the Second World War, as the ships of English Navy forces were docked here. There are many delightful small and large bays in this area for boats to anchor.
---
Day 5 - Sedir (Kedrae) Island, Cleopatra Beach, Karacasogut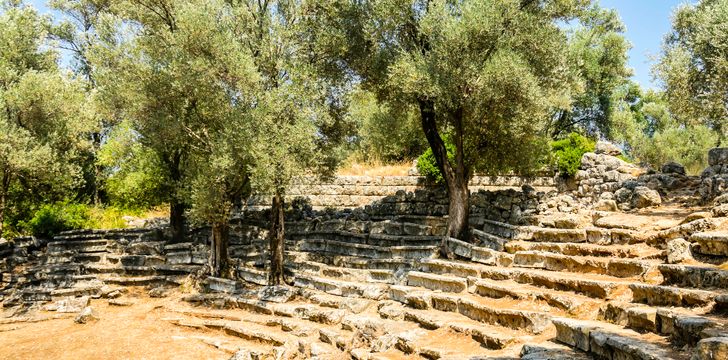 Sailing to Sedir (Kedrae) island. This unique island with its adorable little beach and unbelievably clear water are like an open-air museum... you can see the city walls, the ruins from the Dors' reign - subsequently restored as a church; the amphitheater with 1500 guest capacity, and various domed historical buildings.
Take a walk around the wrecks of ancient pillars with antique writing on them... Cleopatra Beach is located on this island and is known for its unique soft sand, normally only found in the deserts of Northern Africa. It is forbidden for visitors to this island to remove even a tiny quantity! According to myth, King Antonius brought this sand from Egypt by sea to impress Queen Cleopatra!
You will depart the lush sands and head to dine at Karacasogut village. Overnight here. This pretty village is 25 km away from Marmaris. Optional tours can be arranged to Marmaris or Dalyan-Caunos on a dolmus bus, for those wishing to explore.
---
Day 6 - Kargili Bay, Kisebuku (Alakisla)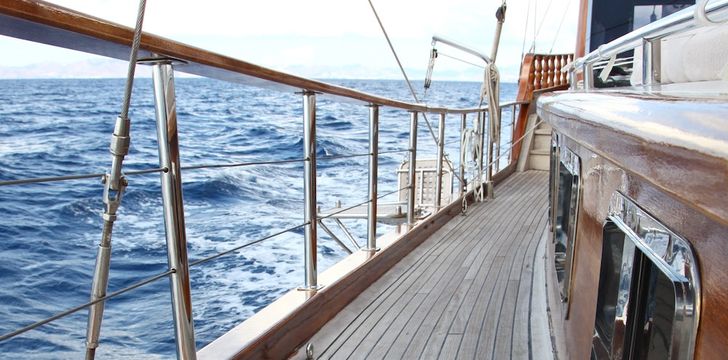 Off to Kargili Bay in the early morning with breakfast served en route. We will be docking in Kisebuku (Alakisla) for a swimming break after lunch. With magnificent views and Byzantine ruins, this is an ideal spot to anchor overnight.
---
Day 7 - Pabucburnu, Yaliciftlik Bay, Bodrum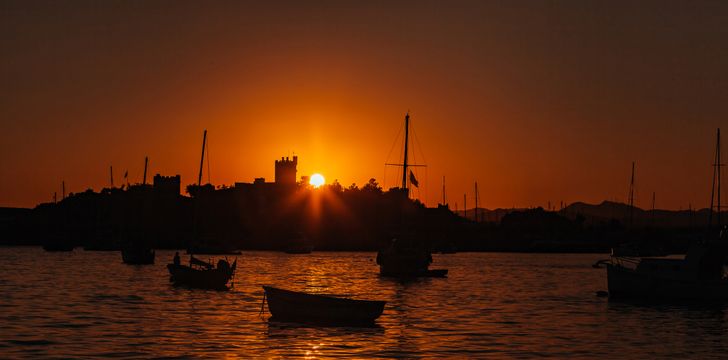 Sail to Pabucburnu after breakfast, with a short swimming break en route. Anchor at Yaliciftlik Bay after lunch; and those who wish to can take an optional tour ashore to explore the quaint little village. We will then set off for our ultimate destination, Bodrum Port, for our last dinner and final night aboard ship.
---
Day 8 - Bodrum
Disembark your gulet after breakfast, taking all your belongings and unforgettable memories with you!
Other Articles of Interest
Charter destinations