Tioman Luxury Yacht Charter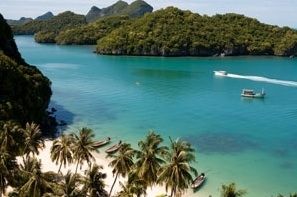 Tioman and the surrounding islands off the eastern coast of Malaysia provide a world class-chartering location for all sailing and motor yachting enthusiasts alike. Tioman is engulfed by the turquoise South China Sea and boasts an abundance of white sandy beaches and secluded coves. A yacht charter in this spectacular region provides a gateway to a handful of idyllic and picturesque islands, such as Dayang, Sibu and Besar.

The dry season, April until September, provides the best chartering conditions. Charterers will experience long sunny days, calm seas and a gentle northeasterly breeze. The average yearly temperature ranges from 22-32°C and it will not disappoint. Unfortunately, charter yachts are not available during November through till March, due to the monsoon wind patterns in Southeast Asia.

Boatbookings specialises in a whole range of luxury boats in Malaysia, Tioman and Singapore. We offer bareboat or crewed, sailboats, motorboats, catamarans and luxury yachts and we will be more than happy to find the perfect charter for you! Browse through our excellent selection of yachts below or email us on charter@boatbookings.com for help with your upcoming charter.
Other Articles of Interest
Charter destinations