St Thomas Yacht Charter - Chartering in the US Virgin Islands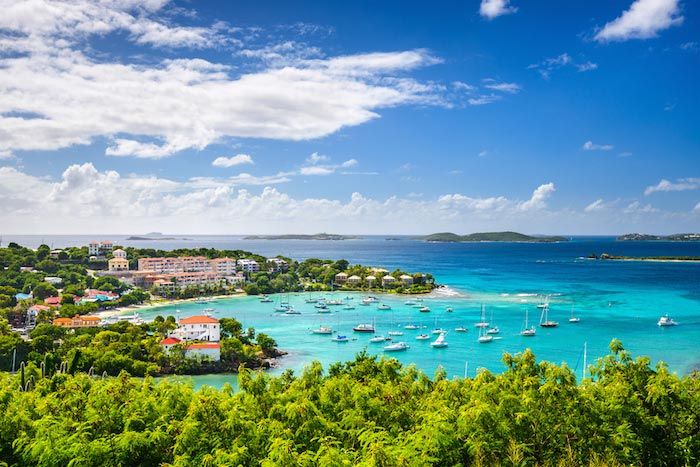 St. Thomas and the US Virgin Islands are the most popular crewed catamaran destination within the Caribbean Sea, known for its sweeping mountainous vistas, natural harbours, unrivalled anchorages for water sports, fantastic fishing, restaurants, and of course duty-free shopping! 
Even if you have experienced vacationing in St Thomas before to the Virgin Islands, it's worth returning to indulge for a few nights at the brand new luxurious Yacht Haven Grande Marina onboard your Charter Yacht. YHG is the jewel marina of the Virgin Islands- boutiques, dining, swimming pools, tennis, and a private Yacht Club have set new standards for luxury marina lifestyle worldwide. Between the fast-paced way of life in Charlotte Amalie to the tranquillity of Magens Bay, a St Thomas yacht charter provides the perfect balance to relax and also enjoy a wide variety of activities. 
Tourists are continuously lured to this cosmopolitan destination to experience a taste of the laid-back island life. Luxury yacht charters in St Thomas are also very popular as it is a prime starting location to explore the islands off the USVI such as St John and the BVI.
Sort through the charter yachts below or use these handy links to quickly find the yachts that best fit your needs:
Motor Yachts: Crewed
Monohull Sailing Yachts: Bareboat (inc. Bareboat with Skipper) | Crewed
Catamarans: Bareboat (inc. Bareboat with Skipper) | Crewed
Yachts for Special Events: Motor Yachts
User Ratings: Top-rated yachts
Other Articles of Interest
Charter destinations