USVI 7 Day Crewed Catamaran Itinerary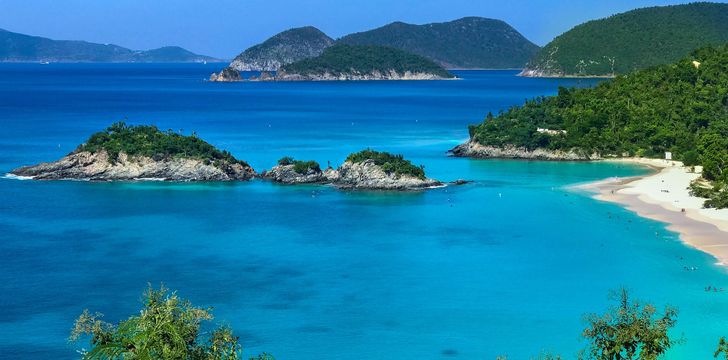 Embark in St Thomas and discover St John and St Croix on your 7 day US Virgin Islands crewed catamaran charter vacaction
Step onboard a luxury crewed catamaran in the US Virgin Islands and discover our sample US Virgin Islands crewed catamaran itinerary, designed to give you the best of everything that these gorgeous islands have to offer. Itineraries are always suggestions and should be developed in consultation with your Charter Expert and daily check-ins with your captain following the weather and expected swell.
---
Map
---
Day 1 - St Thomas to Caneel Bay and Maho Bay, St John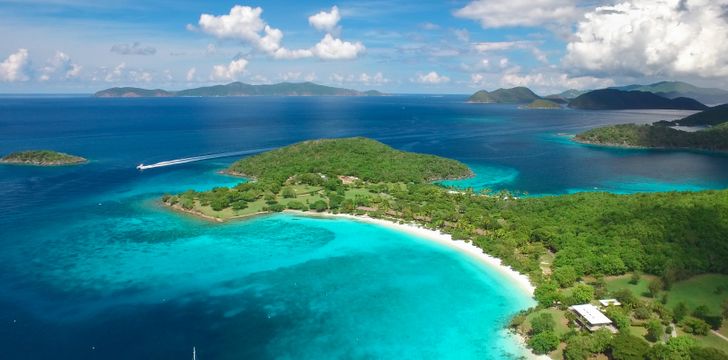 Pick up at your USVI crewed catamaran yacht at the marina in St Thomas and head directly east to St John, an island in the USVI that is almost entirely a National Park and beautifully preserved. Anchor for some snorkelling in Caneel Bay, before settling down for lunch at Lovango Beach Club. Dinner here is a popular option amongst charterers; Zozo's is a highly-renowned resturant for local fresh Caribbean cuisine, with the option of a fixed menu for $100/person.
Alternatively, following lunch enjoy a short sail to Maho Bay. Enjoy paddle boarding, a walk on the beach or snorkelling with the sea turtles. Watch the sunset while enjoying cocktails and hors d'ouevres and enjoy an evening of good food, games, and togetherness.
---
Day 2: Waterlemon Cay, St John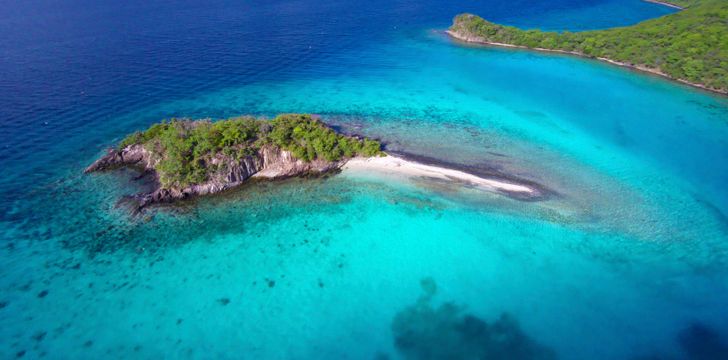 After breakfast, dinghy over to Mary's Point or Whistling Cay for a guided snorkel tour, learning about the coral reef ecosystem. After lunch, enjoy a leisurely sail to Waterlemon Cay. If you want to go ashore, you can take the short hike to the Annaberg ruins for a fascinating historical tour. Or just check out the amazing snorkelling and world-class fly fishing in the salt flats. For the adventurous, this is a great place for a night dive around Waterlemon Cay!
---
Day 3: Coral Bay, St John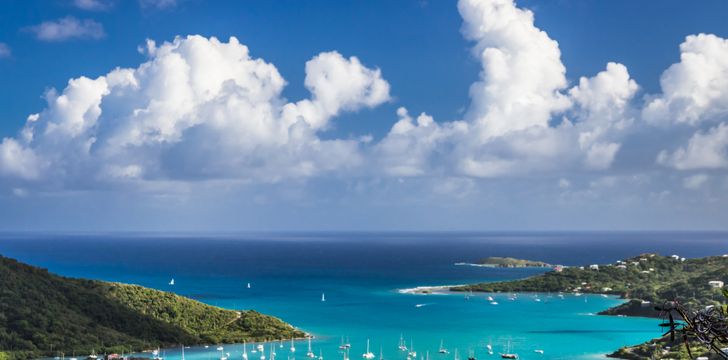 Start the day with a nice hike/snorkel at Waterlemon Cay (depending on what was accomplished the day before), or a quick motor sail up to Newfound Bay to try your hand at snaring a Caribbean lobster. For lunch, shoot over to Coral Bay to enjoy fresh cocktails, tasty tacos, and a fun, festive atmosphere at Lime Out, before sailing to Salt Pond Bay. Enjoy a quiet afternoon on a gorgeous white sand beach surrounded by Caribbean views. Other options include snorkelling at Booby Rock, a dive excursion or hike Rams Head for an epic sunset view.
---
Boatbookings has over 17 years organizing charters in the USVI. Contact us for a personalized proposal.
Contact us to plan your USVI Charter
---
Day 4: Congo Cay, Carvel Rock, Mingo Cay, Magens Bay
Enjoy an early morning hike up the Ram's Head Trail. Return to the vessel for a relaxing mid-morning sail to the Lovango/Congo Cay cut. Stop for lunch. Feeling adventurous? Dive the legendary Carvel Rock, making sure to look for old cannonballs and other relics. You may even get lucky and see some local blacktip reef sharks. Not a diver but still looking for an adrenaline rush? Ask your captain about some local cliff jumping options or try to surf the cut at Mingo Cay. Sunset sail to the World Famous Magens Bay, St Thomas (weather dependent) and enjoy a sunset swim, paddle or walk on the longest beach in St. Thomas!
---
Day 5: Magens Bay
Breakfast followed by water sports. Magens Bay is the perfect spot for paddleboarding, wakeboarding, foiling, water skiing, and tubing. Not into the action? Hide out on one of the small, secluded strips of beach where you'll have the place to yourself. After lunch, enjoy some time on the beach or perhaps visit the Magens Bay Beach Bar and Boutique for cocktails and shopping fun.
---
Day 4-5 Option: St. Croix
Interested in exploring the largest island in the VI territory? St. Croix is a quiet, friendly island with a fascinating history and a burgeoning restaurant industry. Located appx. 35 miles south of St. Thomas and St. John, it's an exciting "beam reach" sail to and from St. Croix, with the one-way trip being 4-5 hours of exciting, open water sailing (where you're likely to see a dolphin or two).
Once arrived in STX, you'll enjoy world-class diving on the North Shore, snorkelling with sea turtles at Buck Island, and fascinating historical relics and stories! If permissible, your crew can help rent a car and go explore the rainforest, beautiful beaches and enjoy the local culture. Fancy a round of golf? Check out the Buccaneer for a unique island golfing experience. Don't forget to stop by the Norma's Domino Club to enjoy local concoctions and feed the beer drinking pigs! History buff? Tour Fort Christian, Fort Frederick, Estate Whim or the famous Cruzan Rum factory. Sail back to St. Thomas the morning of Day 6. 
---
Day 6 - Little St James, Buck Island (St Thomas)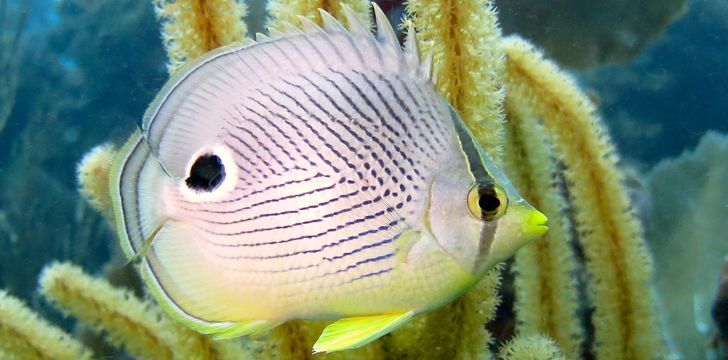 Motor sail up to Little St. James for a gorgeous snorkel/dive at "Ledges" or "Calf and Cow". Enjoy lunch at Pizza Pi, in Christmas Cove, Great St. James (if open). After lunch set sail for historic Buck Island (STT) and enjoy a quiet evening, enjoying the sunset and learning the history of Buck Island and its highlights. Buck Island is a nature preserve and home to many migratory birds, as well as a sanctuary to endangered sea turtles.
---
Day 7: Wreck of the Cartanza, Turtle Cove, Honeymoon Beach, Water Island, Charlotte Amalie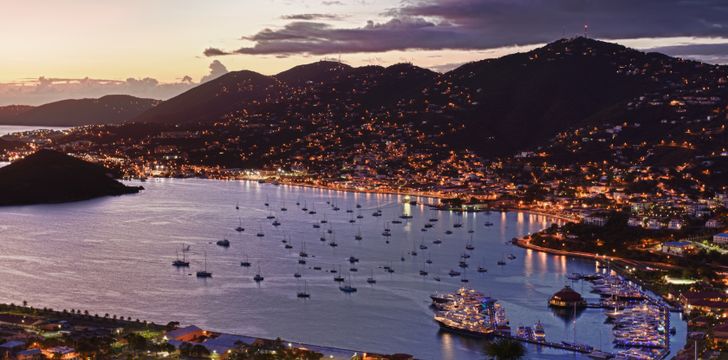 Breakfast Snorkel the wreck of the Cartanza, an old freighter with a fascinating history, and/or dinghy over to Turtle Cove to swim with the turtles. You have a downwind sail to Honeymoon Beach, on Water Island. Enjoy lunch aboard and then spend the afternoon on the beach or rent golf carts and explore the island if you're interested. Take a leisurely sunset sail through historic downtown Charlotte Amalie and enjoy cocktails/hors d'oeuvres while your crew provides a fun, historical tour of the area. Spend the night at anchor in the harbour or stay on the dock at Yacht Haven Grande (dockage at the charterer's expense). Enjoy some local nightlife! 
Day 8 - Disembark
After your final amazing breakfast on board, you may be interested in a walking (and shopping) tour of historic Charlotte Amalie! Check out Emancipation Gardens, the 99 steps, and the historic Fort Christian. Take advantage of duty-free shopping at Vendor's Plaza or in any of the downtown boutiques. Return to the boat to pack for a noon departure. The crew will arrange transportation to your hotel or the airport.
---
Boatbookings has over 17 years of experience organizing charters in the USVI. We're experts on matching the right boat and crew with your party! Contact us if you'd like a personalized proposal!
Contact us to plan your USVI Charter
---
Our Top BVI Crewed Sailing Yachts