Mangusta Yacht Charter from Boatbookings

Mangusta yachts are built in the Overmarine Shipyard, a subsidiary of the Rodriquez Group, in Viareggio, Italy. The sleek, distinctive Mangustas are recognized as the world's biggest and fastest Open yachts, and are a well-known status symbol in flash destinations such as St Tropez and Porto Cervo. Certain Mangusta models are capable of achieving speeds in excess of 50 knots/90 kilometers per hour. Mangustas range between 72 and 165 feet in length.
News: Launched in September, the latest unit of Mangusta 94 series has just landed in Miami, US, where she will be available for the US commercial season, starting with the prestigious Fort Lauderdale Boat Show (5/9 November). Also, the latest project in the Long Range line, Mangusta Oceano 55, and the very first 48 metre Fast Displacement yacht from the brand new Mangusta GranSport line.
Boatbookings has a wide range of Mangustas to charter, of all sizes. Below are just a few of the many Mangustas we have available.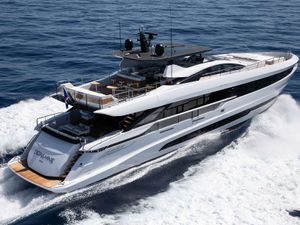 DOPAMINE
Mangusta GranSport 33 - 5 Cabins - Nassau - Bahamas - Exumas
Mangusta GranSport 33 Luxury Crewed Motor Yacht
Length: 33 m
Year: 2021
Cabins: 5
Berths: 8
From $110000 to $110000 per week
Berths: 8
Cabins: 5
Crew: Crewed
Type: Motor
Length: 33 m

(112' )

Year: 2021
BOATBOOKINGS SAYS:
"The latest Mangusta GranSport 33 chartering in the Bahamas with a flexible cabin configuration to accommodate 5 couples in 1 King and 4 Queen staterooms."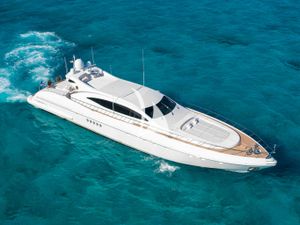 TOTAL
Mangusta 108 - 4 Cabins - Nassau - Exumas - Bahamas
Mangusta 108 Crewed Motor Yacht
Length: 32 m
Year: 2006 (2020 refit)
Cabins: 4
Berths: 9
From $75000 to $80000 per week
Berths: 9
Cabins: 4
Crew: Crewed
Type: Motor
Length: 32 m

(108' 8")

Year: 2006 (2020 refit)
BOATBOOKINGS SAYS:
"Get the TOTAL luxury experience in the Bahamas aboard this sleek and stylish yacht."
2 charter yachts found: Currently displaying 1 to 2.
Other Articles of Interest
Charter destinations