Ferretti Yacht Charter Guide and Listing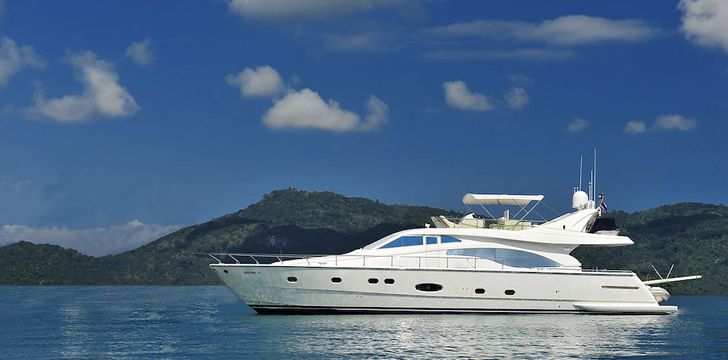 The Ferretti Group, based in Forlì Italy, is one of the leading companies in the world of design and construction of luxury motor yachts and sporting boats. Its complete range of yachts measures from 7 to 80 meters long.
The Ferretti Group consists of: Ferretti Yachts division (flybridge motor yachts, 14 to 27 meters), Pershing (high-performance open cruisers, 11 to 35 meters), Itama Cantieri Navali (open motor yacht, 13 to 25 meters), the American Bertram Yacht (sport fisherman motor yachts, 12 to 22 meters), Riva (open and flybridge motor yachts, 10 to 35 meters), Apreamare in Sorrento ("gozzo sorrentino" and 'Maestro' line, 7 to 25 meters), Mochi Craft division (lobster boats, 13 to 23 meters), Custom Line division (maxi yachts in composite materials from 26 to 34 meters with two decks) and CRN (megayachts in composite materials – 40-meter planing model and 43-meter displacement model - and steel megayachts from 46 to 80 meters).
Top Ferretti yachts for charter worldwide - our expert listing
Boatbookings has sourced the top Ferretti Yachts for rental worldwide. You can scroll through our list below or simply contact us and we'll find you the perfect Ferretti! Most of our guests love Ferretti's with flybridges; you can feel the wind in your hair and admire your gorgeous surroundings while sipping cool beverages as the sun sets around you!
Other Articles of Interest
Charter destinations