Day 7 of the Cannes Film Festival features the highly anticipated standalone drama, Behind the Candelabra, by Steven Soderbergh, an Academy Award–winning film director, best known for directing critically acclaimed Hollywood films such as Out of Sight, Erin Brockovich and Traffic. It is based on Liberace's autobiographical novel recounting the tempestuous 6-year homosexual relationship between him and his young lover, Scott Thorson. Liberace is masterfully played by the Hollywood veteran Michael Douglas, who paints a stark picture of celebrity loneliness in this dark comedy. Together with Matt Damon, who plays the young lover Scott Thorson, they are magnificent in portraying this beautiful but toxic relationship that moves from the highs of their first years together to miserable loneliness and Liberace's death in 1987.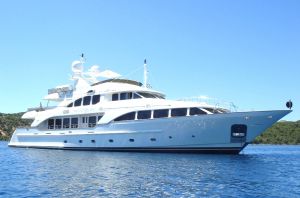 In keeping with the flamboyance and theme of this film, our yacht nominee is WILD THYME. It would be the perfect luxury yacht charter for Michael Douglas as Liberace. WILD THYME accommodates up to 10 guests in 5 beautifully appointed en-suite cabins that are replete with exquisitely designed soft furnishings and marble bathrooms. What's more the owner's cabin and bathroom offer magnificent opulence, with gorgeous soft silks in ivory and gold and a stunning view from the panoramic bow window – just the sort of luxury that Liberace would expect and would without doubt give any charter the time of their lives.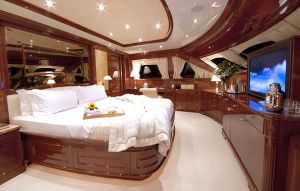 This opulence continues on the exterior of the yacht with al fresco dining, a deck jacuzzi and a fantastic array of water toys for those looking to be active! The crew of 7 lead by experienced Captain Peter van Houweninge will look to your every need and ensure you have the very best possible charter.
WILD THYME, is a fantastic yacht to charter for events such as the Cannes Film Festival or the Cannes Lion Festival and is a perfect opportunity to host clients, impress friends, seal deals and enjoy the rewards of a hard years work.
At www.boatbookings.com, we are here to help you plan your perfect luxury yachting holiday. We have a team of highly skilled professionals who are extremely knowledgeable in their destinations and will be able to help you bring together the yacht, the crew and all the other aspects that make your charter special.