We love delving into the future of our crewed charter catamaran industry. There has been so much innovation that it is exciting to speculate on what may come. The entire boating industry has been significantly evolving and transforming for the past decade, especially regarding sustainability.
The International Maritime Organization (IMO) has already set ambitious targets for 2030 and 2050, and meeting them requires that boat performance is optimized for sustainability from design through to operations. So, what must happen to reach these in the next decade?
Today, we are already witnessing advanced technologies, heightened environmental concerns, and the rise in green chartering. At Boatbookings, we take a look into our crystal ball and set out some of the things we think may happen: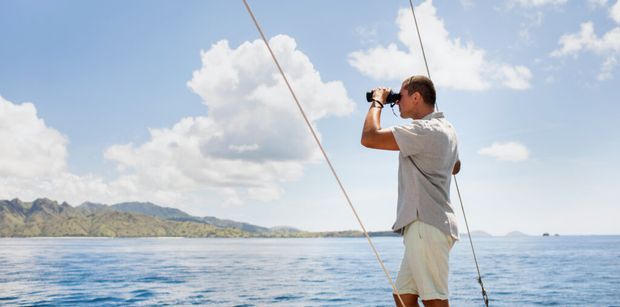 Zero-Emissions & Regulation
There are already potential solutions for a fossil-fuel-free future. Advanced propulsion systems are making their entry, reducing carbon emissions and helping to minimize the industry's carbon footprint (as well as fumes and noise!). By 2030 there will be even more carbon neutrality projects, including the utilization of electric, hydrogen, fuel cells, and Hydrogenated Vegetable Oil (HVO, a sustainable fuel made from used vegetable oils). Alongside the IMO commitment to cut greenhouse emissions from shipping by at least 50% by 2050, we believe that stricter restrictions and regulations will begin to filter through in the next few years.
AI: Smarter Yachts
We cannot talk about future predictions without considering technological shifts. Having already seen these over the past few years, we expect more to come with enhanced innovation and investment. One of the advancements that will continue is likely to be in AI and autonomous navigation systems, enabling boats to navigate with complete autonomy. The improved algorithms and sensors in the coming years will reduce the risk of human error, enhance safety, and improve efficiency. One shipyard leading the charge on this is Feadship. They have designed various concepts with full autonomy, replacing the standard helm with 'command centers.' There will also be more technology onboard boats that help revolutionize how they use and distribute energy; these smarter systems will better monitor consumption, enhancing efficiency.
Futuristic Building – 3D printing and more green materials
The developments in 3D printing are so exciting, and we believe will be transformative in boat building. It is hugely advantageous for manufacturing, whereby components can be made faster and with much less wastage. While at the moment, only a few pioneering companies are producing small boats and spare parts from 3D printing, soon this will expand to larger boats and every build process. With material waste dropping significantly, the process increases sustainability credentials. Alongside the building, shipyards will also begin to utilize greener materials that consider the entire lifecycle and, therefore, have less impact. 
Design Trends
In terms of actual design trends, builders will embrace designs that integrate entirely with natural environments, incorporating more sustainable materials and green living spaces. The interior spaces will blend more with the exterior, bringing the outside in. Many catamaran builders, such as Sunreef, are already working on this concept, and we believe future designs will embrace this biophilic design even more.
More and More Multihulls
At Boatbookings, we love offering our crewed and bareboat catamarans; these boats are the key to the best future. They boast better sustainability credentials such as improved efficiency, fewer emissions, reduced overall impact, and the use of renewable energy sources. Catamaran builders have seen increased demand over the years, and by 2030 perhaps multihulls will be the norm!
---
Today is just the beginning of a better future. The industry is in a transformative era, and we believe sustainability and technology to enhance experiences will be at the core. Contact our team at Boatbookings today to discuss your future on a greener crewed charter catamaran with us!