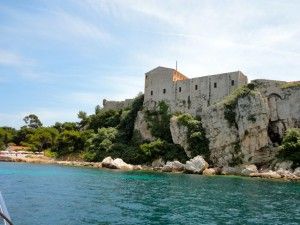 Many people who fly into Nice for their luxury charter on the French Riviera may notice the cluster of islands just off the end of Palm Beach, Cannes. These islands are the Iles de Lérins, found in the bay of Cannes. Made up of two islands, they are both a peaceful and historic place to visit. Ile Sainte Marguerite is the larger island and is covered by a pine and eucalyptus forest, where you can visit the cell in which the Man in the Iron Mask was imprisoned. Ile Saint Honorat, just south of Sainte-Marguerite, has a Cisterian abbey that still produces a local wine.
The passage between the islands is a popular anchor point for many of the yachts of the region, and a great place to stay for the night if you`ve been visiting Cannes or Antibes. You can anchor between the islands, for this offers great swimming while protected from the wind, and a fabulous view of the sunset over the Esterel.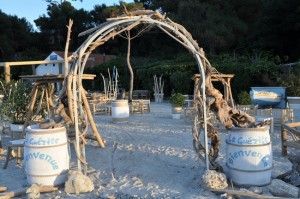 If you're looking for a restaurant to visit for your lunch, La Guérite, on Ile Sainte Marguerite proves to be a popular choice. Nestled into the island, relax by the beach and dine with a view towards Cannes. With a fabulous menu, including bouillabaisse and freshly caught fish, you can indulge in a long lunch or enjoy a light snack.
A great choice to get you to the Iles de Lérins, is this Sealine C35. Perfect for a day out with a small group of friends, she is available from 1,700 € per day. She is modern in design and can accommodate up to 2 guests sleeping in 1 cabin. With seating for some informal dining, you can relax with a drink in hand and watch the sun go down.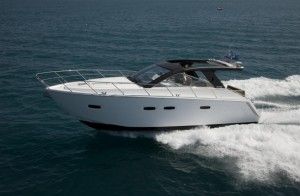 Are you interested in exploring the Iles de Lérins? Have a look at our sample itinerary for a day out from Cannes. At www.boatbookings.com, we welcome everyone from sailing professionals to complete novices and will help you at every step of the way to make your dreams a reality. We have a team of highly skilled professionals who are extremely knowledgeable in their destinations and will be able to help you with any questions you may have.
Watch this space for the latest industry show releases, news and gossip in the yachting world. If you liked the content on this page and our previous posts, please become a fan and like our Facebook page to receive up to date information on our publications. Follow us on Twitter and Google Plus too.