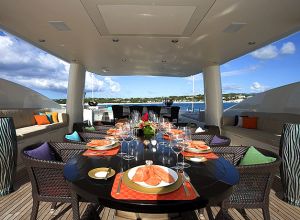 The vast portfolio of Luxury Super Yachts that are available for charter makes the choice of picking a weekly favourite extremely difficult. However, DENIKI is quite stunning in every regard so that is why she is this weeks choice! Currently on show at the 2012 Antigua Yacht Show, DENIKI is a 52.3m Amels Super Yacht, accommodating up to 10 guests in 5 luxurious cabins. She combines both sleek lines and contemporary styling with a bold use of colour, making her extremely striking.
Each of the cabins are decorated with a different colour scheme, and the master suite is decorated with an African theme, which is such a unique feature of the yacht and adds to DENIKI's character. She also has on board a steam room, gym and sauna, decorated beautifully with mosaics. The contemporary art décor is bright and colourful, and shows off the attention to detail in DENIKI's design.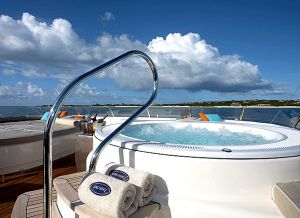 An all-important factor of a charter is of course the food, and DENIKI's chefs Ben and Gareth produce super food throughout the day! When our Managing Director and Charter Director spent a day out on DENIKI, they dined on Kobe beef carpaccio with a truffle dressing and grilled mahi-mahi with sweet peppers. She has 11 crew who will attend to your every need to ensure that you have the best experience possible. Some of her best features are her water toys, including Tenders, Jet Skis, Water Skis, Wakeboards and towable toys – which are bound to keep both the adults and children entertained for hours. She also features a gym with all of the latest cardiovascular equipment and weights.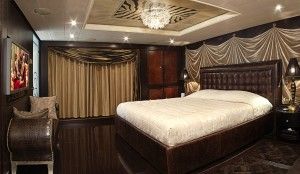 The reason why she is this weeks favourite is due to her incredible outdoor space. She offers multiple sunbathing areas with large cushions to ensure maximum comfort. There are also beautiful areas to sip cocktails, such as their espresso martinis, whilst watching the sunset and outdoor al fresco dining areas, perfect for sampling the gastronomic treats from the chef.
She is available for charter in the Mediterranean in the summer, and the Caribbean during the winter season. You can also send your charter enquiries to [email protected], and our brokers will be delighted to provide you with more information.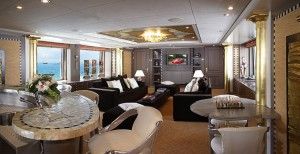 At www.boatbookings.com, we welcome everyone from sailing professionals to complete novices and will help you at every step of the way to make your dreams a reality. We have a team of highly skilled professionals who are extremely knowledgeable in their destinations and will be able to help you with any questions you may have.
Watch this space for the latest industry show releases, news and gossip in the yachting world. If you liked the content on this page and our previous posts, please become a fan and like our Facebook page
to receive up to date information on our publications.
Follow us on Twitter and Google Plus too.