Following on last week's theme of yachts that hold a special place in our heart this year, our final super yacht of the week for 2014 is BLUSH. We've been watching BLUSH's movements since she was revealed earlier this year, a rumoured £25 million new-build from Formula 1 mogul Eddie Jordan. The 47-metre yacht is Sunseeker's flagship creation and the largest yacht ever built at the British based shipyard. Following her reveal the yachting industry awaited her launch with baited breath, and we were not disappointed!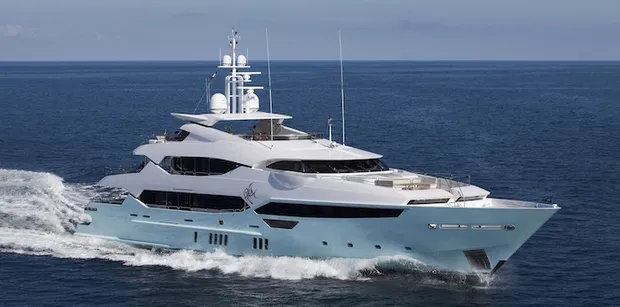 As well as being the largest yacht Sunseeker have ever built, BLUSH is also the most advanced and boasts statistics such as cruising speeds of 17 knots using just 600 litres per hour of fuel. The combination of both technology, comfort and exclusivity make BLUSH the one of the best charter experiences available today. The yacht boasts extensive outside space, thought out with innovation in mind to offer you a completely new experience only found on one of today's world class super yachts. With lounging on the main deck, huge spaces on the fly deck outside for private entertainment, and one of the most chic sun decks we've ever seen incorporating dining, lounging and entertaining into one relaxing environment. As well as all this, BLUSH offers balconies at sky lounge level meaning you can truly enjoy the mesmerising panoramic views of wherever you're chartering. The two cherries on top are her beach club and toy selection which you can make full use of as she is an RYA certified training centre, two features normally only found on much larger yachts.
Inside, style and space are on offer in perfect harmony. BLUSH boasts accommodation for up 12 guests, as well as a gigantic sky lounge for entertainment and privacy. Harmony is the key throughout the yacht and the striking aqueous blues and greens, relaxing greys and clean whites go from the bold hull all the way through to the sumptuous interior.
True to her owner's lifestyle, BLUSH has been designed entertainment in mind – especially her bridge deck which as we've seen boasts both extensive space and privacy. Entertainment was clearly also front of mind when choosing a captain, as Sean Read is one of the most knowledgable captains we've met for both vacation and event charters. BLUSH really isn't missing anything, including her Spanish charter license meaning she's one of the largest and most luxurious yachts available for your charters in the stunning Balearics. Contact us today for more information on this truly unique charter yacht.