According to Charter Director, Allison Cecilio, why should you choose just one island when you can explore as many as your heart desires!  The stunning 50-plus islands and cays that comprise the British Virgin Islands have two great assets, they are easily accessible and its virgin beauty.  They have been known for years as a "sailor's paradise" and what better way to explore these islands than on your own private charter catamaran.  Discover one of "Nature's Little Secrets" with your family and friends this January on one of the best holidays of your life; you'll treasure every memory!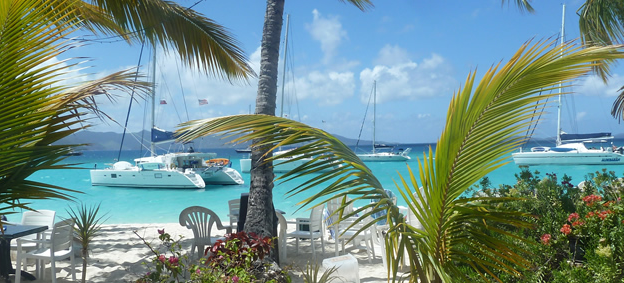 One of my favorite places to visit in the BVI's was Saba Rock, which is located in the North Sound of Virgin Gorda.  Saba Rock was originally the home and scuba diving headquarters of the legendary scuba pioneer and treasure hunter, Bert Kilbride. In 1997 John McManus bought the island and with the help of local architect, Paul Wattley, they created the paradise it is today.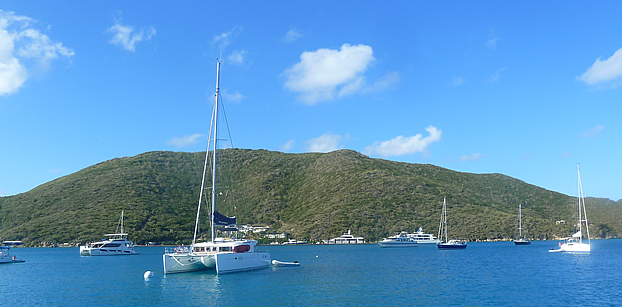 It is primarily a restaurant and bar with wrap around seating that ensures all diners a fantastic view, especially at sunset when the happy hour offers great drink specials. The food is absolutely delicious and make sure to have one of their signature drinks!  There is also plenty to explore on this one-acre island that includes the mini museum/gift shop, which displays many of the artefacts that Bert Kilbride salvaged and the small aquarium that contains the last anchor of the Rhone.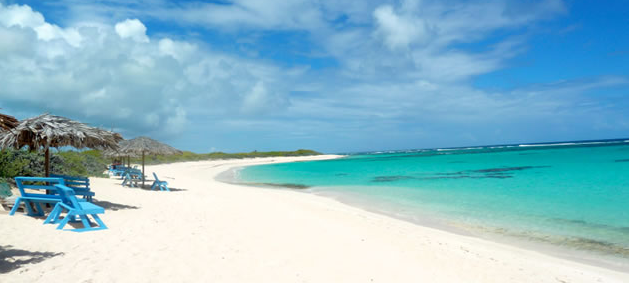 There is no better way to vacation in the BVI'S other than by boat and there is no better choice than the newly launched luxurious sailing catamaran, Tell Star 62. Add a very energetic, popular and talented crew, and the journey is guaranteed to be unforgettable. The new Tell Star, a 62 Lagoon, has a very spacious modern open layout with wonderfully expansive decks for enjoying the gorgeous turquoise waters of the BVI.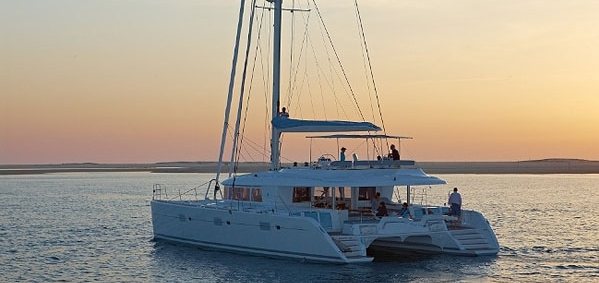 The large windows allow plenty of natural light in the interior as well as amazing views of the picturesque coastline. She accommodates 8 guests in 4 luxurious, well appointed cabins: 3 with queen berths and 1 with two twins. The master suite features a walk-around bed with private sitting area and direct access to the cockpit.
The aft deck offers a spacious lounge area and outdoor dining with magnificent views. From the aft deck there is easy access to the water via the wide steps on each pontoon. The foredeck with its two large trampolines is a favorite area for sunbathing and lounging while under sail. The expansive fly bridge is yet another wonderful spot to take in the spectacular scenery with a hard top bimini providing shade from the sun.
Captain Chad Van Roden and his brother Chef Tyler Van Roden are known for wow-ing their guests with extraordinary yachting vacations. Their personalities are most welcoming, ready to do everything possible to ensure an unforgettable charter. They are joined by Elizabeth Rapp as hostess/stewardess to complete the 3-person crew.
The Boatbookings team know the very best crewed catamarans to meet your requirements. Moreover, our first hand experience of the boats, crews an destinations will ensure that you have a unique and memorable experience. Learn more about your charter today!