Our specialist Caribbean charter broker Nieves, attended the 32nd Annual BVI Charter Yacht Show, and was thoroughly impressed! Read here her positive report on this year's show and see her fabulous choice of favorite yachts!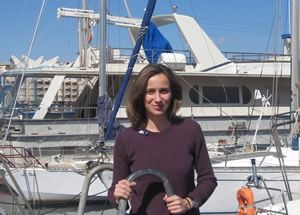 "The 32nd Annual BVI Charter Yacht Show took place for second consecutive year at Nanny Cay Marina in Tortola between 7th and 10th November. Both the number of participating boats and the attending brokers have been a great success. The BVI Yacht Charter Society organized various events such as the "Travel the Nations Yacht Hop" and the Croker (Crew/Broker) Beach Olympics, which was excellent for enhancing the interaction between Brokers and Crews. Also, the CYBA Annual General Meeting took place on 8th November with a satisfying number of attendees according to the organization."
Nieves has also selected her favorite yachts featured in the 2013 show from all the amazing boats that were present.
"(Christensen 1986 refit 2011) – SYRENE is a spacious and and comfortable charter yacht. Features two master cabins and 2 guests with ensuite private bathroom. Tasteful decoration – nice fabrics and carpets including Egyptian cotton linens. The crew is 4 with her chef. She is the perfect boat for family charters in the Caribbean aboard a motor yacht!"
"(Jeanneau 53 2013) – LORI B V is brand new with a distinctive blue hull. She offers speed, elegance and pleasure. Leather seats and sofas, three spacious cabins with private heads – the forward cabin can be converted into a stateroom with "his" and "her" bathroom. 2/3 double cabins. Captain Berth and Chef/Steward Emily will ensure safety, comfort and super tasty dishes. They love Spanish wines! – there was a bottle of Ramon Bilbao (Rioja wine) in the middle of the table of the boat! And the food they prepared for the Travel the Nations Yacht Hop was delicious, representing the US 'deep south'."
*SPECIAL MENTION*
ORION, a 90 ft Catana catamaran, was a clear winner with our brokers attending the 2013 BVI Charter Yacht Show. The favorite boat on show of both Lambros and Nieves, she is a true luxury crewed catamaran now available for charter with Boatbookings.
Watch this space for a comprehensive run down on ORION and see for yourself what has amazed our brokers about her!
Contact Nieves directly for more information on anything Caribbean, or fill out our Boatbookings enquiry form to help us find the perfect luxury yacht charter for you!