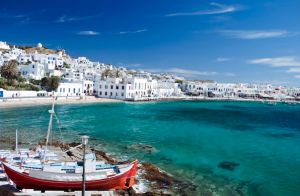 Santorini, classically known as Thera, is a picturesque Greek island nestled in the heart of the southern Aegean Sea. These idyllic islands are a fabulous place to charter a luxury yacht. The green rolling hills and emerald blue coastline attract sailing enthusiasts year on out.
The larger of a circular archipelago of Greek islands, Santorini is the magnificent remains of a previous volcanic eruption forming a single, breathtaking rectangular lagoon that slopes down in the Aegean Sea. Breathtaking and beautiful, Santorini deserves all the superlatives. A place of natural beauty, Santorini is the perfect place to take that special someone. Marvel at the glorious sunset from the northern most tip of the island.The quaint village of Oia, boasts uninterrupted views of the sun, as it slowly sinks beyond the horizon.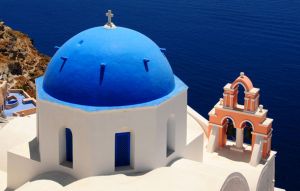 Santorini oozes romances and tranquility. Why not impress your loved one by dining at the Atmosphere Lounge, located on the Kamari beach promenade. The Atmosphere Lounge overlooks the crystal blue water of the Aegean Sea. Serving a fusion of traditional Greek, Italian and international cuisines, this restaurant certainly meets all expectations. Feast your eyes on one of the many innovative starters, exotic salads or the sumptuous range of fresh seafood. Relax on the open air terrace and gaze across the beautiful Kamari bay. Voted as one of the most romantic restaurants in the world, charter a yacht to Santorini with that special someone today!
Pershing 72, is an extremely fast luxury motor yacht, accommodating up to 6 guests in 3 well-designed and lavish cabins. She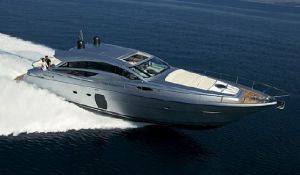 combines power and style, creating a memorable chartering experience. The interior is chic and vibrant, the light and airy saloon is the perfect size for large groups. Stylish glass panelling provides fabulous scenic viewing of the breathtaking Greek coastline. Each of the cabins have their own exquisite en suite, along with blackout electric roller curtains, which are perfect for keeping out the light during those hot summer months. Charter this Pershing 72 around the beautiful Greek islands and experience a life of luxury.
At www.boatbookings.com, we are here to help you plan your perfect luxury yachting holiday. We have a team of highly skilled professionals who are extremely knowledgeable in their destinations and will be able to help you bring together the yacht, the crew and all the other aspects that make your charter special.
At Boatbloggings we will keep you updated on the latest industry show releases, news and gossip in the yachting world. If you are looking for more information on yachts, charters and other yachting gossip, please become a fan and like our Facebook page to receive up to date information on our publications.Follow us on Twitter and Google Plus too.