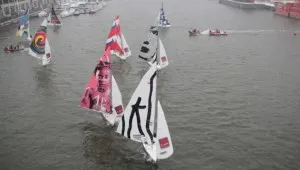 Part of the 2013 London Boat Show included the UK Star Championships; a race for Olympic class Star keelboats. These sailboats were recently seen at the 2012 London Olympic Games, and were on the waters of the Royal Victoria Docks on the 18th January, ready to race with a difference. The recent arrival of snow in London meant that they were off to a chilly start, and the Olympians and World Champion sailors set out to brave the cold weather. These famous sailors included the likes of Iain Percy, Andrew Simpson and Michael McIntyre.
The difference with these Star boats was their appearance.
This was a Fine Art Sails regatta, a new means to showcase art. The main sail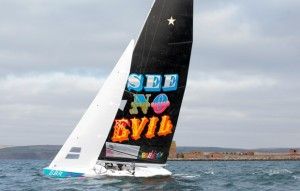 of each boat was a canvas for some of the best international modern artists, including EINE (a favourite of Samantha Cameron, Prime Minister David Cameron's wife), Jaime Gili and INSA. With sails catching in the winds, the artwork constantly moves and changes appearance throughout the race. The regatta was won by French sailor Xavier Rohart and Serge Pulfer of Switzerland, the only non-British pair in the race. Not all the art was on the water though; Ben Ainslie also donated his Finn class sail to Fine Art Sails, to be displayed in the main exhibition hall.
Are you interested in chartering a luxury yacht for yourself? At www.boatbookings.com, we welcome everyone from sailing professionals to complete novices and will help you at every step of the way to make your dreams a reality. We have a team of highly skilled professionals who are extremely knowledgeable in their destinations and will be able to help you with any questions you may have.
Watch this space for the latest industry show releases, news and gossip in the yachting world. If you liked the content on this page and our previous posts, please become a fan and like our Facebook page to receive up to date information on our publications.
Follow us on Twitter and Google Plus too!