Greece is the perfect holiday destination for all ages, with its turquoise waters and and white beaches who could say no? With approximately 1,400 islands of which 227 are inhabited, there is plenty of space for everyone, and so much to explore.  Each island has its own character and attractions, and classical history and ruins abound, so it is worth taking the opportunity to visit a few, and what better way to island hop than in your own luxury yacht?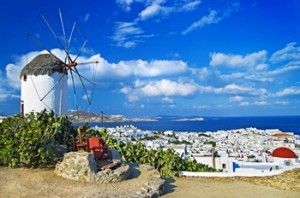 Mykonos, in the most famous group of Greek islands known at the Cyclades, is always worth a visit. The close proximity of the 39 islands in the Cyclades means there is plenty to explore, and always another island to visit. Mykonos draws in visitors with its whitewashed homes and blue-domed churches that you will only find in this area of Greece. As the "Island of the Winds" according to Greek folk culture Mykonos is a focal point of international jet-set. Regardless of your holiday program; whether you are after the local history and tradition, the local and international cuisine or just wishing to relax by the sea and sun, Mykonos will meet your expectations. However, the best way to grasp the beauty of this Greek island, is by being able to see the whole thing, and its neighbouring islands, so obviously the best option for visiting Greece is by boat.
So, if you are looking to charter in Greece for a week, charter PARIS A, a luxury Maiora 35-DP. She is perfect for exploring the Greek islands, and gives you the chance to venture off the beaten path to places that may not be on your typical destination guide, but this way you can explore the 'real' Greece. With stylish interior design, she welcomes you in for a comfortable ride. She also has a huge sun deck, perfect for day time sunbathing or night time partying. With a range of water toys to try out as well, what better what to experience the Greek waters?
Looking to charter a yacht in Greece? Head to www.boatbookings.com, the leading online yacht charter broker, or email us at [email protected] and one of our Charter Specialists will get back to you shortly.
Watch this space for the latest industry show releases, news and gossip in the yachting world. If you liked the content on this page and our previous posts, please become a fan and like our Facebook page to receive up to date information on our publications.