Just west of Monaco is the town of Cap d'Ail, where you will find the gorgeous Mala Beach. The beach was named in 1933 after the dancer Mala Kchessinska, who liked to spend time walking through the pebbly sand with her lover, Tsar Nicholas II. Mala Beach is located in an inlet along the coast, set back from the open sea and surrounded by cliffs, which gives the beach its breathtaking beauty. So, why not stop off to explore Mala Beach during your charter around the French Riviera?
La Réserve de la Mala is a private beach and restaurant, perfect for a lunch break or early evening drinks. A combination of warm water, stunning scenery, amazing food and music playing, La Réserve de la Mala is an ideal beach to visit during your day charter. Open throughout the day from mid-March to mid-October, Mala Beach then welcomes the party scene in the evenings as of the Monaco Grand Prix until the start of September. Whether you want to take the time relax in the sun, dine on freshly cooked Mediterranean cuisine or party away to live music and DJs, Mala Beach has something to suit everybody.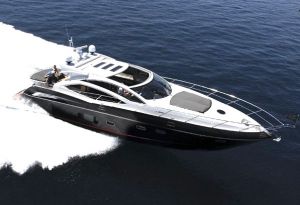 So, if you fancy a trip along the coast to Cap d'Ail, why not charter this Sunseeker Predator, PULSAR. Available at €5000 per day, she will give you a fast but comfortable ride an will be able to whiz you all the way to Mala Beach! She has a very welcoming crew who will make sure you get the most out of your day and enjoy the beauty of the Riviera. There is plenty of sunbathing space on the decks for topping up on your tan, which will also be great for relaxing after having a fantastic lunch at La Réserve.
If you would like to receive more information with regards to booking your luxury 2013 charter yacht on the French Riviera, please enquire through our website, www.boatbookings.com, where one of our Charter Specialists will be happy to help you plan the experience of a lifetime. You can also send your charter enquiries to [email protected], and one of the team will get back to you shortly with some proposals.
Watch this space for the latest industry show releases, news and gossip in the yachting world. If you liked the content on this page and our previous posts, please become a fan and like our Facebook page to receive up to date information on our publications.