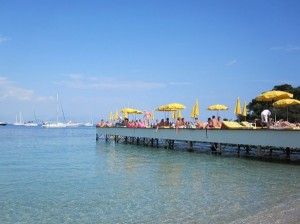 Some way between Juan-les-Pins and Antibes on the French Riviera is a secluded bay – Cap d'Antibes. In the Cap, Keller Plage is a fantastic restaurant and beach, perfect for lunch on your day charter. We highly recommend the fish at the restaurant, and the Japanese Tuna entrée is absolutely exquisite.
If you're looking for an alternative to sailing to St Tropez, but are looking for something as relaxing and memorable, why not charter out of Cannes, sail to the Iles des Lerins, where you can anchor in the pearly blue waters for some swimming. After working up an appetite, head to Keller Plage for a sumptuous meal and a relaxing time either on the sandy beaches, or on board your luxury yacht, with a drink in hand.
For your day out, we cannot recommend AQUA BLUE OF IRELAND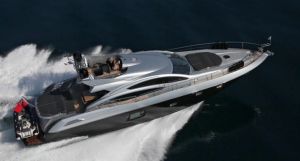 highly enough. She is a stunning Sunseeker Predator 74, available for charter out of Cannes. She has sunbeds at the front of the yacht to accommodate at least 3 sunbathing, and can accommodate 10 whilst sailing for a day charter. If you're looking to spend more than a day on board, she has 3 great cabins, which provide space for up to 6 guests. Please see below for a great video of AQUA BLUE OF IRELAND!
If you would like to receive more information with regards to booking your luxury 2013 charter yacht, please enquire through our website, www.boatbookings.com, where one of our Charter Specialists will be happy to help you plan the experience of a lifetime. You can also send your charter enquiries to [email protected], and one of the team will get back to you shortly with some proposals.
Watch this space for the latest industry show releases, news and gossip in the yachting world. If you liked the content on this page and our previous posts, please become a fan and like our Facebook page to receive up to date information on our publications.