Whether you wish to try your hand at water-skiing, scuba diving, snorkeling, fishing, knee boarding, windsurfing or Seabobs (among other sports), there are always boats on offer that meet all the necessary water sport requirements. Chartering a crewed yacht with a variety of sea toys is a fantastic way to ensure a family vacation with plenty of excitement and adventure. Below you will find brief descriptions of just some of the fantastic water sport opportunities on offer.
Scuba Diving / Snorkeling
The beautiful waters of the Caribbean are the perfect place for exploration and discovery. Dive down to sites that include the wreckages of Spanish galleons and British warships, or snorkel through the stunning coral reefs that are home to a host of tropical fish and other rare species of marine life.
Many crewed yachts offer diving instructors on board who will ensure that you have a safe and enjoyable scuba-diving experience. Rendezvous diving means that you are joined by a professional diving company who bring their own boat and diving equipment. These companies offer only the most experienced diving staff who have unrivalled knowledge of all the best local dive sites.
As the only coral reef island in the Virgin Islands, Anegada is an extremely popular charter destination for snorkelers and scuba divers.  Other popular diving and snorkeling destinations include the Maldives, Seychelles and the Great Barrier Reef.
Waterskiing, Wakeboarding and Kneeboarding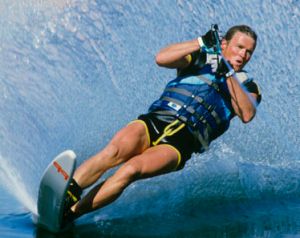 The easiest and quickest way to learn how to ski is by starting on a kneeboard. Kneeling on the board gives you a much lower centre of gravity than conventional waterskiing, which makes it easier to balance and keep control when you are being towed at speeds of around 30-50km/h.
In contrast, water skiing not only requires exceptional upper and lower body strength but also extremely good balance. Many boats offer both adult and children's waterskis. Children often find learning to waterski easier than adults due to their lower centre of gravity.
Wakeboarding was originally developed from a combination of water skiing, snowboarding and surfing. Wakeboards are usually made of foam or honeycomb, which is mixed with resin and coated with fibreglass.
Given the obvious dangers of falling into the water at speed, a third person is required as a spotter for the person in the water. The spotter's job is to ensure that all necessary safety measures are taken.
Interesting fact: The most skiers towed behind one boat is 145. This world record was set by the Horsehead Water Ski Club in Strahan, Tasmania, in January 2012.
Personal Water Craft / Water scooter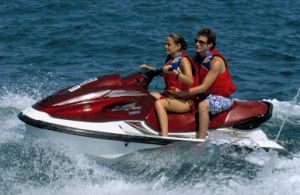 Personal Water Craft (PWCs) are often referred to by their more well-known brand names such as Jet Ski, WaveRunner and SeaDoo. These vehicles are normally designed for one or two people, although three- and four-man models do exist.
PWCs are popular because they are small, very fast and easy to manoeuvre. They are also an extremely fun way to explore the ocean and are safer around swimmers because they do not have external propellers.
Riders should probably try their best not to fall off though, as there is a risk of similar injuries to those that can be picked up on waterskis.
With accommodation for 6 guests in 2 cabins, the Jongert 27m crewed sailing yacht ICARUS is ideal for sailing charters around Europe and the Virgin Islands. ICARUS offers a variety of exciting water toys including snorkelling equipment, waterskis, tube, towing ring, wake board and fishing gear, while rendezvous diving is also an option.
If you would like some advice and help in planning a trip to the BVI, please  have a look at our BVI Catamaran Charter Guide or send us an email to [email protected], where one of our Brokers would be delighted to assist you.