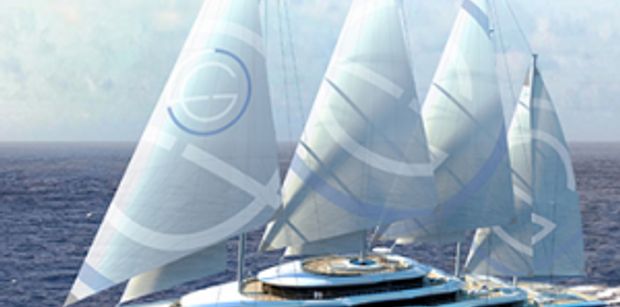 Project ATLAS is a new and exciting Superyacht concept collaboration between H2 Yacht Design and Laurent Giles Superyacht Architects. ATLAS is a modern motor yacht which combines the efficiencies of sail power, to improve its green credentials. She will be a contemporary 5 deck Superyacht, yet demonstrates the elegance that is possible with the combination of a motor / sail yacht.
Like most modern Superyachts, ATLAS will feature a simple and elegant design, creating a contemporary yet classic aesthetic appearance. She will feature a combination of striking and soft flowing curves, with spacious decks, making her a very popular choice for entertaining friends, families and event groups. She will feature a 7m infinity swimming pool, including a waterfall feature which leads to a swim platform. She will also feature twin Jacuzzi's, as well as large sunbathing areas and a bar/ stylish lounge area, even more reason why she would be the perfect yacht for large events. The yacht is architecturally designed to make the most of the sun, with the inclusion of an open sundeck, perfect for sun fanatics!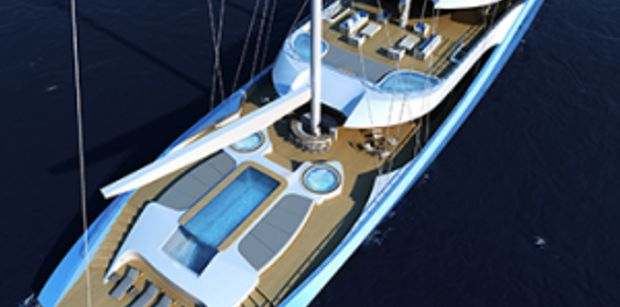 ATLAS's exterior will feature a large skylight which will flood the interior of the yacht with natural light. Each guest suite will incorporate a private balcony. The vessel will incorporate the most modern tenders and toys, yet will be discrete and these will remain out of sight, emphasising the focus on aesthetics. ATLAS will be able to cruise easily at 16 knots with the use of both motor and sails, saving between 40% and 60% on fuel, as well as increasing the range. This is a realistic achievement and will outperform any other 'green solution' on the market. There are active stabilisers that can be used under power and at anchor, which will ensure comfort on the water. Moreover, the natural damping of the sails offer free stabilisation.
There is a diesel electric power plant, which is designed to be totally flexible with the use of the sails. The diesel electric combination can alone power the vessel to a maximum speed of 18 knots with a range without sail assist of 6,000 nautical miles.  She is designed for up to 20 guests and is ideal for extended cruising. She would make for a unique charter experience. If you would like to find our more information on futuristic yacht designs, please watch this space. To find out more on how to charter a luxury yacht and see more Super Yachts, such as ATLAS, please do enquire via our website or send an email to [email protected].
Watch this space for the latest yacht trends and designs, as well as charter and destination information.