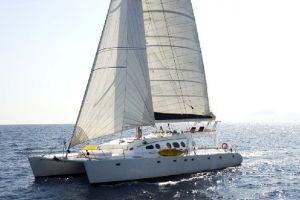 Boat Rentals in Cannes and the French Riviera during the summer 2012: one of our most popular requests is for Day Charters off the French Riviera. Whether you want to explore the beautiful Lerins Islands from Cannes or soak up the St Tropez atmosphere at Club 55, a day charter is the perfect opportunity to explore the hidden bays and islands that this area of coast has to offer.
A typical itinerary might include stopping off for a picnic lunch on a secluded beach, indulging in some water sports in the sun, then heading back for cocktails and watching the sunset after an unforgettable day on the water. Yacht s Cannes itinerary for your day charter from Cannes to St Tropez taking in all the must see spots along the way!
We've put together a list of our most popular day boats, recommended time and time again by clients who have wanted to share their unique experiences with us.
From cocktail cruises to ski boats we have the perfect day boat for everyone! Here are our top 5: LADY PACA
A fantastic boat for event charters on the French Riviera. She can take up to 28 passengers and has been specifically designed for group events, with features including a barbecue, a bar, a plasma TV screen, kayaks and DJ equipment.
PRINCESS V50
The Princess V50 is a firm favourite among our clients thanks to her sleek and spacious appearance. With two state rooms, a comfortable saloon and accommodating up to 10 passengers, it's easy to see why she is so popular for a relaxing but adrenaline filled day cruise around the Cote d'Azur.
SAILING YACHT FIRST 47.7
We often get requests for day charters aboard a sailing yacht, and this First 47.7 is guaranteed to satisfy the requirements of both experienced sailors and novices. Brand new to our site, she offers luxurious accommodation, and is also available to charter in the Caribbean.
PRESTIGE 34
This stunning Prestige 34 is ideal for a more intimate day charter with friends or family. Relax on the large sundeck whilst your children take advantage of the swimming platform at the stern. The enthusiastic feedback we've had for this yacht shows just how well suited it is to cruising the top spots on the French Riviera!
VIBE
A truly exciting yacht (and one of our personal favourites!) Vibe's attentive crew are on hand to ensure you have everything you need for a relaxing and comfortable cruise. With both watersports and Bar + BBQ on offer, there's something to suit everyone on this versatile yacht!
If you are interested in everything to do with yachts please do not hesitate to use our online form to request information on boat rentals cannes or any other worldwide location. Our experienced team at boatbookings look forward to talking to you.