O MEGA super yacht is an 83m Mitsubishi Mega Yacht designed to deliver the luxury vacation of a lifetime. Last week we visited her in Greece to find out whether she does indeed live up to her reputation as one of the finest and most indulgent luxury event yachts charter in the world, and we certainly were not disappointed with what we found!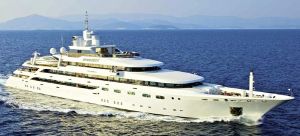 After being immediately greeted with a glass of champagne, the attentive crew continued to ensure that the utmost care was taken to guarantee us an unforgettable experience. It soon became clear that this yacht would be ideally suited to parties and corporate events; the flexible layout creates plenty of areas for entertaining and socialising as well as more intimate spaces to relax in privacy. This also makes it perfect for holidays amongst families. While the children can take full advantage of the generous games room and 65 inch home cinema, the adults can get away from it all by enjoying the stunning view from the top deck Jacuzzi, indulging in a treatment in the spa room or hitting the machines in the state of the art gym.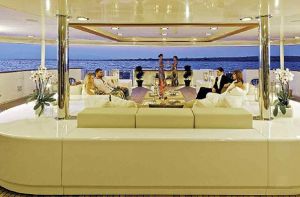 Every feature of this magnificent yacht is designed to create the most idyllic and indulgent surroundings imaginable. Accommodating up to 32 guests in 15 luxury ensuite cabins, the ambience of O MEGA Super Yacht is one of glamour and splendour while simultaneously retaining a very tasteful décor with her gold gilded chairs and elegant marble staircase. After starting with cocktails in the piano bar, we moved on to the lavish dining room (capacity for up to 70 seated guests) where the two fantastic chefs gave us an exclusive taste of their gourmet cuisine with an exquisite seafood risotto. With the deck space and main saloon area there is easily enough room to hold events for up to 250 guests, and with such a warm and accommodating crew on hand to cater to your needs everything is in place for a once in a lifetime experience on board a luxury yacht charter.
Chartering from both Greece and the French Riviera, this yacht would be perfect for an event such as the Monaco Grand Prix or Cannes Film Festival, or for exploring the beautiful spots Greece has to offer by choosing a luxury yacht charter in the Cycladic Islands.