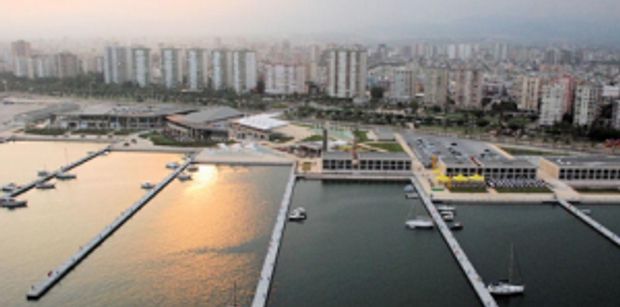 Mersin Marina is the largest marina on Turkey's east Mediterranean shores with a capacity to service 500 boats in water and 500 boats in drydock.  The Turkish Transportation Minister Binali Yildirim proudly inaugurated the facility on November 28 with the goal to promote Mersin as a gateway to Caucasus, Middle East and Africa.
Mersin Marina is designed by Öncüoglu Mimarlik as a city port as well as an urban social center to appeal to residents not directly involved in the marine industry. Public areas include an amphitheater with a capacity for 2,000 people and a Sports Center and Yacht Club with indoor and outdoor facilities including a spa, tennis courts, basketball field and children's 1,000sqm entertainment park.
In additional to divers social facilities, Mersin Marina offers boat services including electricity, fresh water, sewage removal, wireless Internet, cable TV, laundry, shower, first aid, professional divers, fuel stations, a tourism agency, a car rental center, supermarkets, banks and
ATMs, yacht brokerage, and maintenance and repair facilities equipped with a 100 ton travel lift.
Mersin is an important center of tourism and trade with a population of 1.602.000 people living in the city center and surrounding area. The region is presently serviced by Adana international airport while a new international airport is under construction in Tarsus, just 30 km outside Mersin.
Follow this helpful link for comprehensive information to explore Charter Yachts and Destinations in Turkey.