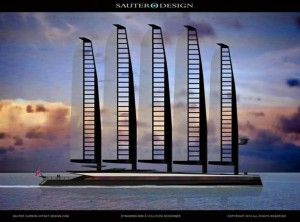 Sauter Carbon Offset Design presents the Emax E-Volution Solar Hybrid Schooner with the goal to produce the fastest and greenest superyacht build to date.
The Emax E-Volution is equipped ZF 4000 Pods, retractable foil and electric bow thruster, aimed to provide unmatched maneuverability and an environmentally friendly alternative to anchoring. The superyacht has a photovoltaic exoskeleton to harness sufficient solar energy to operate off the grid.
The Emax E-Volution's high aspect ratio DynaWing sails are 20% shorter than a conventional rig, yet are designed to produce twice as much power. When moored or under severe weather conditions the mainsails are reefed and the stay-less rotating Wingmasts are feathered into the wind.
The greening of the Emax E-Volution comes without sacrifice to luxury onboard. The full beam master compartment is positioned on the upper deck and offers superb panoramic views through large picture windows. It features a king bed, spacious seating area, bathroom with Jacuzzi and power shower, state of the art entertainment center, walk-in dressing room and private adjoining office. Six spacious luxury guest suites are located amidships on the main deck. The
suites have similar amenities with queen beds, walk-in closets, entertainment systems, Jacuzzi bathrooms and spectacular picture windows.
Technical Specifications:
Ned Ship – Bio Epoxy Carbon Kevlar Composite Structure
Ned Ship – Advanced Aerodynamic Radome and PV Wing Spoilers
High Modulus – DynaWing Stay-less Schooner Rig; Sail Area 1,600sqm
SunPower – Solbian Marine Solar Panels; up to 100KW (Over 300MWh per year)
MTU – Series 2000 Tier 4i 858KW engines
Tesla – 200KW Electric Motors
Tesla – Electronic Controller with (KER) Power Sailing Regeneration
ZF – 4000 Azimuth Pods
ZF – Hybrid Propulsion System
Ocean Yacht Systems – Rim Drive Bow Thruster
MDI – Retractable Anhedral -Foil
Corvus – lithium ion Storage UPS < 3MWh
Ocean LED – lighting
Certified Energy Star Equipment, AC & Refrigeration with Waste Heat Recovery to Produce Hot Water
Here is a link to learn more about Green Chartering for Low Carbon Emissions.