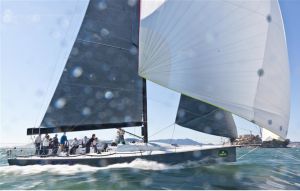 The Rolex Big Boat Series has once again attracted world-caliber sailors to this West Coast event from all corners of the continent and abroad. Beginning today, four challenging days of racing culminate with the presentation of six specially engraved Rolex timepieces given to winners of the St. Francis Yacht Club's Perpetual Trophies.
The Rolex Big Boat Series is the second race of the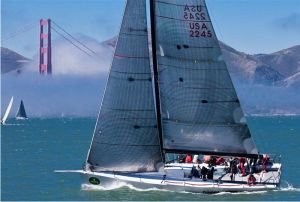 series, followed by the West Coast Shootout (September 24-25) and the Great Pumpkin Regatta (October 29-30), which is considered a San Francisco classic.
The racing action takes place on the San Francisco waterfront that is now home to the America's Cup.  "This is the first time for all of us sailing in San Francisco," said Jan Bruening, the bowman aboard his father's German entrant, Topas, in the Farr 30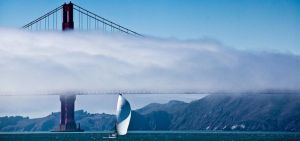 class, which is holding its 2011 World Championship concurrent with the Rolex Big Boat Series. The thing we've enjoyed is, really, that every day there are stable winds."
The largest class, the J/105s have "dialed up their programs" for the Rolex Big Boat Series, said Stuart Johnstone (Newport, R.I.), who is on Arbitrage. "It's always tough; the top six or so teams are extremely good and all capable of winning a North American championship. In fact, San Francisco teams are typically known to dominate this class's North American championships."
Johnstone pointed out that in IRC C, there are four J/125s that are part of the "fast forties" sport boat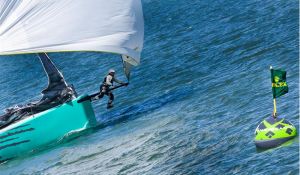 contingent.  "They are also specially geared up for this regatta, and they corroborated on their ratings (by using same sail selections, etc.) to stay close. There is only one boat (Andy Costello's Double Trouble) that is local. They are gonna have a ball, since the race committee, I'm sure, will send them on courses that criss-cross all over the place."
Johnstone said it was anyone's guess how the new Farr 400 Team Premier will fare with Dee Smith (Annapolis, Md.) at the helm, and there are also two Farr 36s and an ID 35 thrown into the mix.
Here is a helpful link with information about Yacht Charter for Regattas