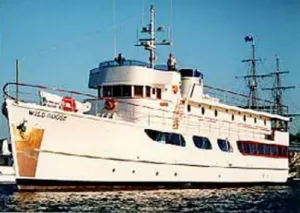 136-foot WILD GOOSE is a vessel with an illustrious career to date, and she continues to enthrall charter guests cruising out of Newport Beach, California. WILD GOOSE, originally built in Seattle in 1943 as a minesweeper for the US Navy, was decommissioned from military use in 1946 and entered into private ownership from that time forward.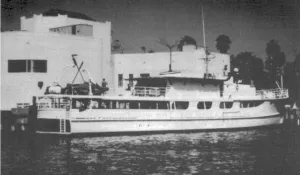 John Wayne purchased the vessel in 1962 for $116,000 and converted her into an opulent private yacht. He had long been passionate about the sea, even once having applied to, and been rejected by, the US Navy. From the time he purchased the yacht until shortly before his death in 1979, John Wayne spent as much time as possible on board.
John Wayne was a devoted family man and enthusiastically adventured up and down the Pacific coast from Alaska to Mexico, often with his third wife and three daughters. Berthed at his private dock in Newport Beach, WILD GOOSE served as the platform for glittering celebrity events as well as informal gatherings with friends such Dean Martin, Sammy Davis Jr., Bob Hope, Richard Nixon and Ronald Reagan.
Just weeks before he succumbed to stomach cancer, John Wayne sold the yacht to Lynn Hutchins, a local attorney. Almost immediately after his death, Hutchins reported seeing his ghost on board WILD GOOSE to the National Enquirer. A psychic explained that his spirit remained deeply attached to the vessel and corroborated the apparitions.
Previously certified by the California Office of Historic Preservation, WILD GOOSE has just received eligibility for entry into the National Register of Historic Places because of the long-term association with the iconic Hollywood actor. Documents submitted and approved cite the importance of the yacht "as an expression of John Wayne's personality and outsized image."
Please follow this helpful link for information on Luxury and Superyacht Charter.