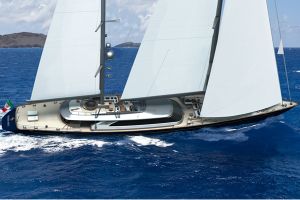 The Perini Navi Group has produced some of the most magnificent sailing, racing and charter yachts currently on the water. The Maltese Falcon, Antara, Heritage and Andromeda La Dea are a few examples of stunning launches from the Italian shipyard in Viareggio, a yard that remains prolific despite uncertain economic times.
Keeping their balance on the cutting edge, The Perini Navi Group has launched a new series of 60 meter sailing yachts and already has two sales contracts that total more than 70 million Euros. The two yachts, a ketch and a sloop, will be delivered in 2013 and 2014 respectively. The new line, created and designed in house, represents an evolution of the successful 56 meter series that includes the spectacular charter yacht Rosehearty.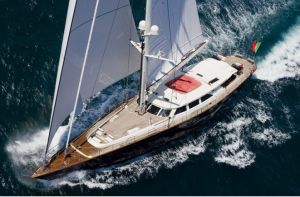 In the year 2010, the yard delivered three sailing yachts and one motor yacht; Panthalassa and Melek, 56 meter ketches, Fivea, a 45 meter sloop, and Exuma, a 50 meter Picchiotti, distinguished as the first motor yacht produced by the Perini Navi Group. The Perini Navi Group closed the 2010 fiscal year with an order portfolio of 126 million Euros. This year, thanks to the sales of the two new yachts, the volume is currently at 140 million with seven yachts in the works that range from 45 to 73 meters.
Follow this link for a selection of Perini Navi Charter Yachts