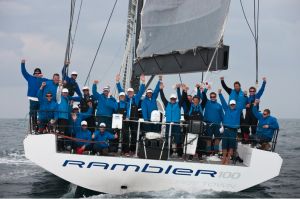 Rambler 100, skippered by George David (Hartford, Conn.) crossed the finish line of the Transatlantic Race 2011 on Sunday 10th July at 16h 08m UTC.
Elapsed time for Rambler 100 was 6d 22h 08m 2s.
It has established a new record for the 2,975 nautical mile course from Newport, RI to Lizard Point, South Cornwall, UK, which is to be ratified by the World Sailing Speed Record Council.
Visit this link for information on Yacht Races and Regattas.