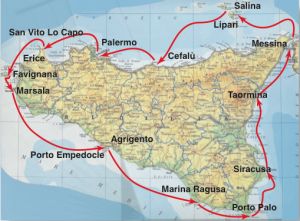 Circumnavigating Sicily is an experience of a lifetime. The captain and crew of YUK, a Hallberg-Rassy 62 foot sailing yacht,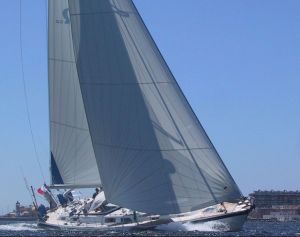 invite guests for an intimate journey into this land of extraordinary art and culture, fantastic landscapes and renowned cuisine. Sail 500 miles around Sicily while sampling the finest local food and wine both on shore and on board your luxury charter yacht. Explore the most interesting places on the coast and islands while sailing upon the crystal waters of three seas: the Tyrrhenian, Ionian and Mediterranean.
Day 1: Depart from the capital city of Palermo to San Vito Lo Capo, a small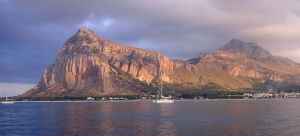 townnestled between spectacular mountains, famous for the international Cous Cous Fest and dotted with charming seaside restaurants.  Enjoy a classic dinner of fish couscous San Vito washed down by a fine local wine.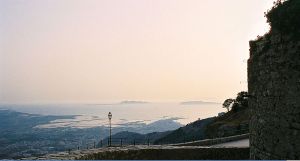 Day 2: Sail from San Vito to the historic town of Erice located 750 meters above sea level. There are two castles and impressive ancient ruins worth visiting. Savor luncheon al fresco at anchor before navigating to Favignana, popular for diving and snorkeling. Dive into the ocean in the afternoon then prepare to explore the town and anchor for the night.
Day 3: Favignana is famous for bluefin tuna caught using ancient Arab techniques, and caves of calcarenite rock. Visit the tuna factory, do a bit of shopping and play in the sparkling sea. In the afternoon depart for Marsala, a short distance of 10 miles. Drop anchor in Marsala Lagoon and visit the windmills of Mozia Aperitif. Visit the old town at sunset for spectacular views and explore the ancient market of Marsala.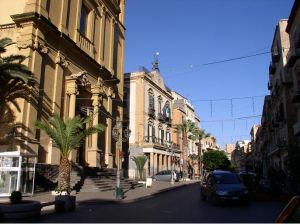 Day 4: The cruise from Marsala to Porto Empedocle passes 66 miles of spectacular coastline. There are several port towns and lovely beaches that are perfect for shore excusions. Moor in Porto Empedocle that lies on the coast of the Strait of Sicily and is steeped in culture and history.
Day 5: This morning visit the Valley of the Temples in Agrigento. The Greek pre-socratic philosopher Empedocles
was a citzen of this ancient Greek colony. Sail to Cala dei Turchi with its sweeping sandy beach and towering cliffs in a picturesque cove, the place of ancient Arab pirate landings in Sicily.  The surrounding sea is incredibly transparent and offers superb grotto diving. Cocktails and dinner on board the yacht and a night transfer to reach Marina di Ragusa.

Day 6: Ragusa is listed with seven other cities in the Val di Noto as a UNESCO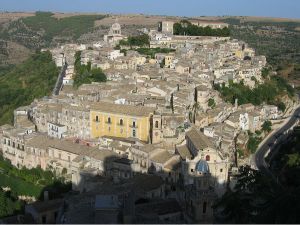 World Heritage Site. The city is a thrill for history, art and architecture enthusiasts, with origins that can be traced back to the 2nd millennium B.C.  From the noteworthy collections of the Hyblean Archaeological Museum to fabulous Baroque and Rococo architecture, Ragusa is an extraordinary destination.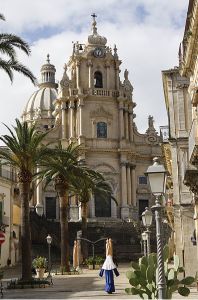 Day 7: Depart Ragusa for Siracusa via Portopalo di Capo Passero, due to its location a crossroads of civilization and culture for seafarers that have challenged the Mediterranean Sea.  Continue to Syracuse for a romantic dinner at a harbor restaurant in Ortigia.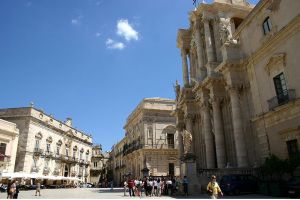 Day 8: Syracuse, also a UNESCO World Heritage Site, is an amazing repository of Greek history, culture, amphitheatres, architecture, and is mentioned in the Bible because the Apostle Paul spent time here. There are also wonderful museums, shops and restaurants offering far more to do than can be done in a day.
Day 9: Navigate to Taormina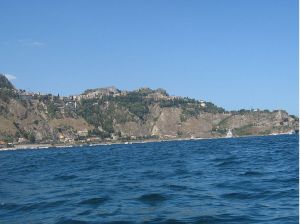 where the yacht will moor in the picturesque Bay of Giardini Naxos, a popular seaside resort. The village of Taormina is perched on a cliff overlooking the warm waters of the Ionian Sea. Visit the ancient Greek theatre, remarkable for its state of preservation and location. Stroll among buildings and churches centuries old, lively bars, fine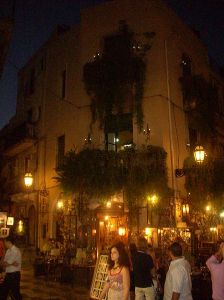 restaurants and antique shops, all of which contribute to Taormina's allure. Taormina is approximately a forty-five minute drive away from Europe's largest active volcano, Mount Etna.
Day 10: Depart for Messina, the third largest city on Sicily. Founded by Greek colonists in the 8th century BC, Messina is characterized by landmarks, museums, restaurants, shops, beautiful fountains and splendid squares at every turn.
Day 11: Embark upon the 35 mile passage

through the Straits of Messina to Capo di Milazzo, a thin peninsula that extends into the Tyrrhenian Sea. This is the site where several civilizations have settled beginning in the Neolithic age, and the site of Ulysses shipwreck and fated meeting with Polyphemus. The port of Milazzo is a departure point for ferries to the Aeolian Islands and Naples.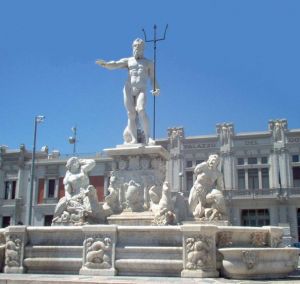 Day 12: The Aeolian Islands are a volcanic archipelago in the Tyrrhenian Sea and a very popular tourist destination. Here the weather will help decide which islands to visit and what adventures to pursue.  Visit the fascinating pumice quarry and plan for an excursion to Capofaro Malvasia Resort, situated under the lighthouse from which it takes its name, on Salina, the Aeolian Island with the greenest and most luxuriant vegetation. The Regaleali Estate is renowned for Tasca d'Almerita award winning wines and a restaurant offering typical Sicilian dishes prepared with estate grown produce.
Day 13: Depart the Aeolian Islands for the 55 mile journey to Cefalu. Enjoy a delicious lunch on board while docked in the Bay of Cefalu. The town is one of the major tourist attractions in the region with a young atmosphere and lively nightlife. The villages are attractive for artistic, cultural and historic reasons. Dinner can be enjoyed at a local restaurant on the sea.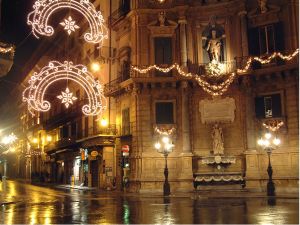 Day 14: Time to return to Palermo and bid your captain and crew farewell. If possible plan to spend at least a day here in Sicily's cultural, economic and tourist capital.  Visitors delight in the extraordinary restaurants, splendid Romanesque and Gothic architecture, palaces, museums and theatres and fine shopping.
Visit this link for information on chartering YUK. Here are informative links to view Sailing and Yachting Itineraries and  Worldwide Yachting Destinations.