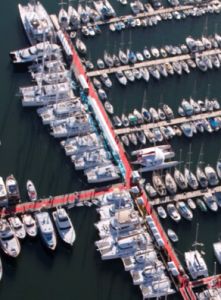 The Multihull Section of the 2011 Festival de la Plaisance de Cannes, September 6 – 11, is a popular venue for all those who love cruising multihulls. Whether sail or motor, these yachts incorporate cutting edge technology, impressive stability and energy efficiency without sacrifice to power.
Many of the largest shipyards around the world plan to reveal their newest models again this year. The Multihull Section will be set up right in the heart of the Vieux Port, along the central pontoon, accessible from either the Pantiero esplanade or the Quai Saint-Pierre footbridge; a unique area accommodating a very wide range of sail and motor vessels from 8 to 36 meters.
The Multihull Section attracts visitors in continually increasing numbers, who are interested in sailing these types of vessels, whether for private or charter use worldwide, and especially in the Mediterranean.
Festival de la Plaisance de Cannes Dates: Tuesday 6 – Sunday 11 September 2011 Daily hours: 10.00 am to 7.00 pm Late evening: Friday 9 September, open until 10.00 pm www.salonnautiquecannes.com
For  comprehensive event information please visit Yachting Events Calender and Event Yacht Chartering.