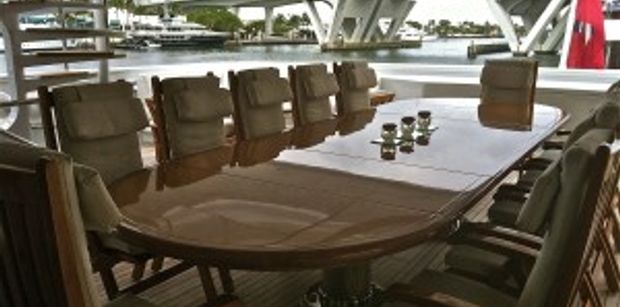 APOGEE is a stunning 205 foot Codecasa with an aristocratic aesthetic that is enthusiastically appreciated by admirers of traditional interiors rich in mahogany and marble, superior amenities, and impressive sea keeping capabilities. The yacht is equipped with state of the art electronics, an excellent stabilization system and engines that propel her to a surprising top speed of 17 knots with a 6,000nm range.
APOGEE is a yacht of surprises, opulently designed with classic Old World elegance; zany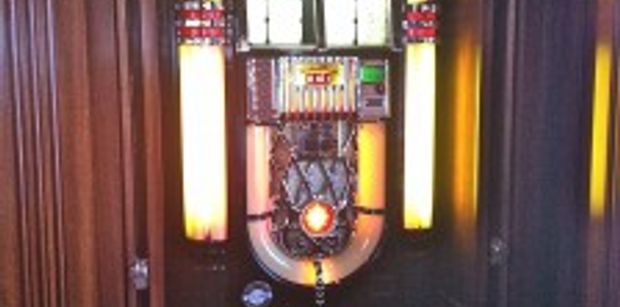 elements like the jukebox and disco ball in the skylounge add just the right dash of playfulness.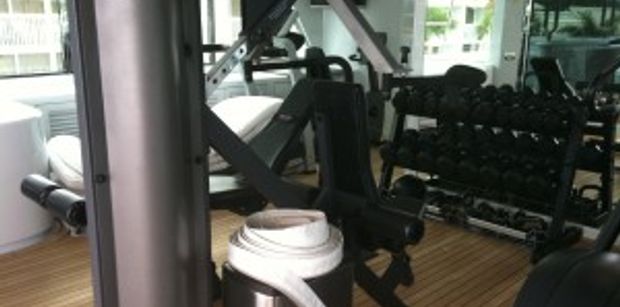 APOGEE also has the most impressive on deck gym we've ever seen, indispensible in offsetting the effects of the talented Chef. And, if guests become a bit overzealous in their calorie depleting workout, Coral, the capable Second Stew, is qualified to massage away the strain.
Notable features aboard APOGEE include a spacious formal dining room with seating for twelve, a skylounge that beckons a theme party, and superb outdoor deck arrangements on every level. Not surprisingly, we are told that guests generally prefer casual outdoor dining, with alluring options on the aft and upper decks. However, the supremely elegant formal dining room provides the raison de d'être to dress for dinner.
APOGEE has six luxurious staterooms to accommodate 12 guests, each with ample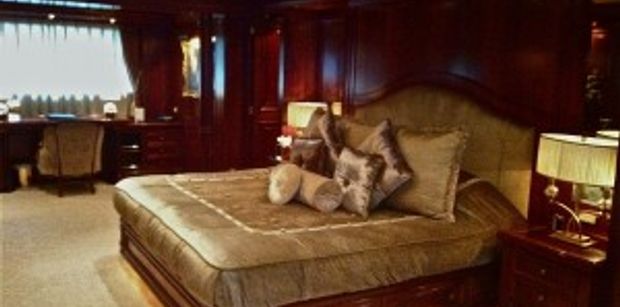 storage and opulent bathrooms. The master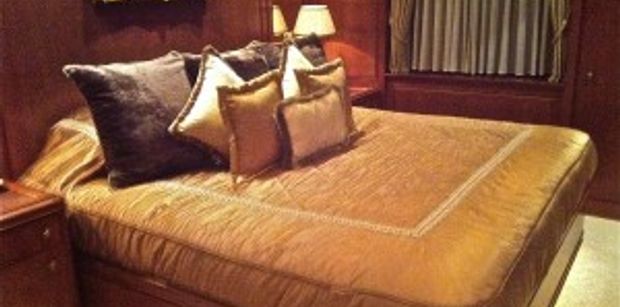 compartment includes a generous lounge area and handsome office that blends perfectly with the sophisticated surrounding décor. A nanny cabin is a real plus for guests accompanied by children or staff.
The elevator amidships, which conveniently accesses all deck levels, takes us smoothly up to the skylounge. Here, within a vast space suitable for ballroom dancing, Neno is busy behind the sweeping bar preparing a colorful array of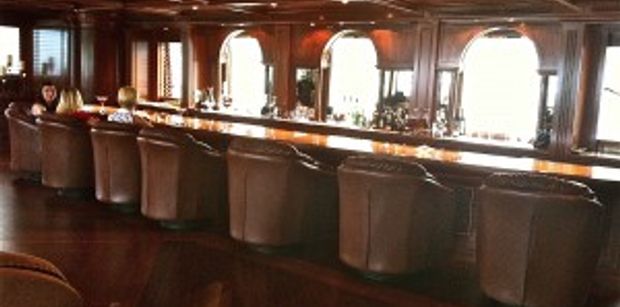 enticing cocktails. On APOGEE, 17 crew members are charming, attentive and multitalented, and Neno is no exception. His abilities include bartender, server, butler, housekeeper and laundryman.
APOGEE is a stunning yacht with a highly skilled and delightful crew that expertly cater to the individual needs of each guest. The ambiance on board APOGEE is supremely comfortable, the atmosphere delightfully convivial, and the accommodations are luxuriously plush. APOGEE effortlessly launches her esteemed guests to the absolute apex of the charter experience.
Please use these useful links for information about Luxury Superyacht Charter and to see available .