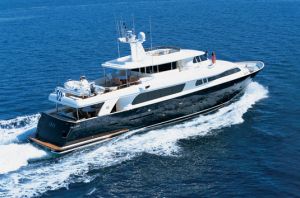 The Greek Islands of the Eastern Mediterranean beckon luxury yacht charter clients with nearly unlimited options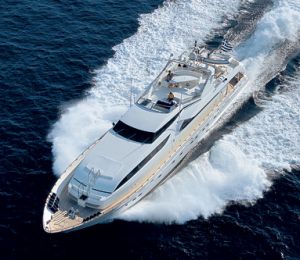 for first class adventure this summer. Each island has a unique splendor and every port a distinct charm. Two superb Italian yachts still have limited summer availability in the region, 101' IRIS Ferretti Custom Line and 104' PROTEUS C.T.M. Falcon. The distinguished crews on both luxury yachts are natives of the Aegean; eager to reveal everything that is marvelous in these renowned ports of call.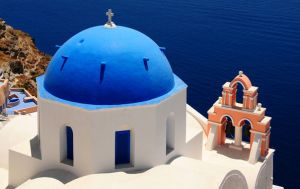 Of all the island groups the Cyclades, a short journey southeast of Athens, are the most popular. These islands are topographically diverse, populated with archetypal Greek towns, congested with appealing restaurants and shops, scattered with amazing archeological sites and famous for their beaches. Whether your yacht of choice is the seaworthy PROTEUS, slicing smoothly through the sea between these destinations, or the stylish IRIS, with spacious social areas ideal for entertaining in port, your experience aboard will be unforgettable.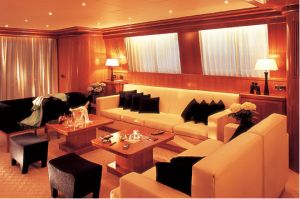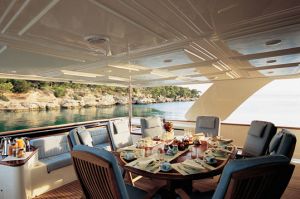 PROTEUS offers twelve guests incomparable luxury in six elegantly appointed, ensuite staterooms. This voluminous trideck design was launched in 2004 and is meticulously maintained. Guests will be thoroughly pampered by her crew of six, dedicated to the requirements of each individual guest. IRIS is an excellent family yacht accommodating up to 12 guests and featuring two twin staterooms with extra Pullman berths that are always a delight for children. The upper deck is superb for sunning and spectacular panoramic views. IRIS is an elegant, stately vessel, yet with a relaxing, ambiance.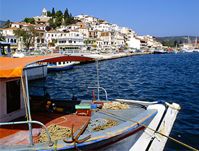 Whichever yacht you are fortunate enough to charter, the Captain and crew can assist with planning your itinerary, which can be the most difficult part of your charter given the myriad of spectacular destinations available. Paros is the new Mykonos for the Greeks, very lively and chic, but not as touristic as Mykonos, which has long been famous for its beaches and nightlife. Santorini is spectacularly beautiful and features extraordinary archeological sites. Naxos has amazing white sand beaches and Antiparos is a very exclusive and expensive hidden gem where Tom Hanks and his wife of Greek origin, Rita Wilson, own a home.
Charter super yacht PROTEUS or luxury yacht IRIS this summer in the incomparably beautiful, mythical and magical Aegean Sea, and there is little doubt these ships and these islands will lure you back over and over again.
Here is a helpful link for comprehensive information on Vacation Yacht Charters in Greece.