Thursday saw the crew on board charter yacht AQUARIUS having a great first day of sailing, in which they valiantly defied a 90 minute morning squall. By the time of my evening arrival everyone was in fine form to party, having already finished taking the winches apart and cleaning them after this challenging day of racing.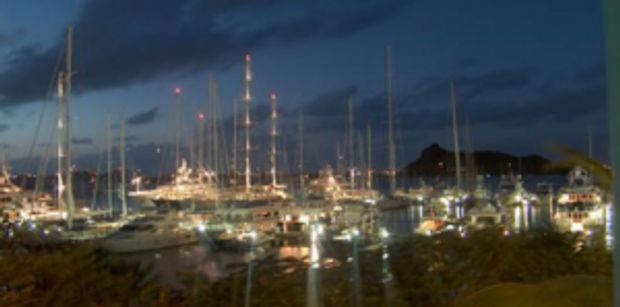 The party, located at Dutch Sint Maarten's Port de Plaisance on picturesque Simpson Bay, was tremendous fun, featuring rockin' music and delightful cuisine. The eclectic crowd included jubilant local families, whose little children danced energetically about the grounds. Not to mention of course, the yacht crews, finally able to relax, drink lots of Heineken and eye the many local beauties. Big screens broadcast videos with highlights of the races.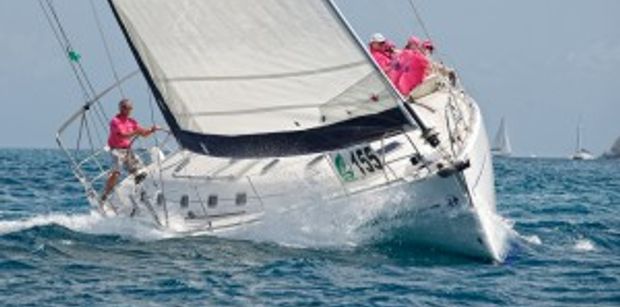 I had dinner on board an elegant Jeanneau 43, which was moored out in Simpson Bay (a bit of a rolly polly place) and gliding on the water from the marina to the mooring on the dinghy the dense forest of glittering masthead lights was truly breathtaking. I am delighted to report that the number of boats in the harbor has easily doubled from last year, including an array of imposing mega yachts. I anticipate a brilliant day of events tomorrow and will keep you posted, with luck right from the rail!
Click here for a comprehensive list of Upcoming Yachting Events, Regattas and Boat Show Dates Worldwide. Wish you could be a spectator or on the race team like the fortunate competitors on AQUARIUS? Click here to Charter a Yacht for a Regatta or Sailing Event.