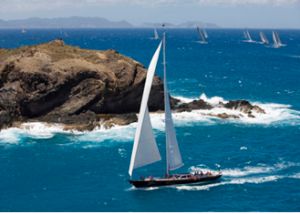 WHISPER is an extraordinary sailing yacht, launched in 2003, that features every classic detail you can imagine. This luxurious 116ft. sloop features naval architecture and styling by renowned Ted Hood/Ted Fontaine with supremely elegant interiors by Andrew Winch. WHISPER, built by Holland Jachtbouw, was the distinguished winner of the 2004 ShowBoats Award for Best Sailing Yacht Under 40 Meters.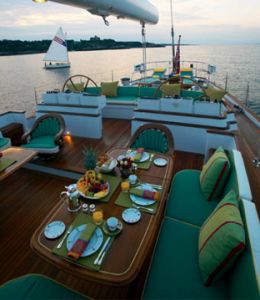 WHISPER is an ideal yacht from which to view some of the Caribbean's most exhilarating competitions. St. Maarten's Heineken Regatta, March 3-6, St. Barth's Bucket, 24-27 March, and Les Voiles de St. Barth, 4-9 April, pit award winning world class teams against each other to challenge the seas.
Guests on board WHISPER will thrill to magnificent views from the raised pilot house featuring L-shaped banquette seating and congenial bar area. This luxury sailing yacht also has a spacious cockpit that seats up to 10 guests.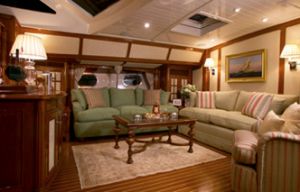 WHISPER has a regular weekly rate of $80,000 but is being offered at the reduced rate of $69,000 per week. This supremely elegant yacht features a highly skilled crew of five that are dedicated to providing the ultimate charter experience.
Follow these informative links for information on Caribbean Regatta Charter, St. Barths Bucket Regatta Yacht Charter Opportunities and Regattas and Sailing Events.